Choosing a custom van interior from Sun Country Truck in Phoenix, AZ can benefit workers and businesses in numerous ways. Throughout Arizona, many businesses rely on custom work vans to get to and from jobs – and even help with their jobs. At Sun Country, we understand the need to have a vehicle that will boost your productivity and improve efficiency. For this reason, we are chosen time and time again to create custom van interiors in Phoenix, AZ, to provide an upgraded and highly organized workspace on wheels.
We create unique interiors, bodywork, equipment, internal chassis frames, and suspensions, allowing us to satisfy even the most demanding work truck or van customization needs. We actively make use of our extensive knowledge of new technology as well as our skills in chassis and frame modification. Our clients agree that our knowledge is far beyond that of any other Phoenix, AZ, custom truck manufacturer.
Phoenix Custom Van Interiors Enhance your Efficiency
When you set out for a job, the last thing that you want to have to worry about is the time you may end up wasting if you forget a vital tool to complete the day's work. At Sun Country, our custom commercial van interiors can transform your van into an all-in-one workstation – from supplying your tools to writing invoices. We take great pride in working with our clients so that we can live up to their expectations and bring all their specifications to life. This means taking into consideration the many opportunities that we have to increase their efficiency to prevent bottlenecks in your process and allow you to provide the high levels of customer service that your customers desire as well.
Your timekeeping can suffer if your truck or work van is unorganized. It can be detrimental to your productivity if you have to dig through clutter to find the tools and equipment you need to accomplish the job. Furthermore, by making the most of the storage space in your company van, you can very easily reduce unnecessary clutter. This increases productivity and keeps your technicians organized. Business owners also understand that a first impression can make or break the likelihood of customers returning. Thankfully, with Phoenix custom van interiors from Sun Country Truck, you can help eliminate this worry from your mind.
Phoenix Custom Van Interiors Offer Extended Life
At Sun Country Truck, we understand that you will rely on your work van day in and day out. As time goes on, it can take a toll on their lifespan. For this reason, our team only uses the highest-quality materials available to not only add value to your vehicle but also enhance its durability. Your van is the conduit for your equipment and supplies, making it crucial to your operation in Phoenix, AZ.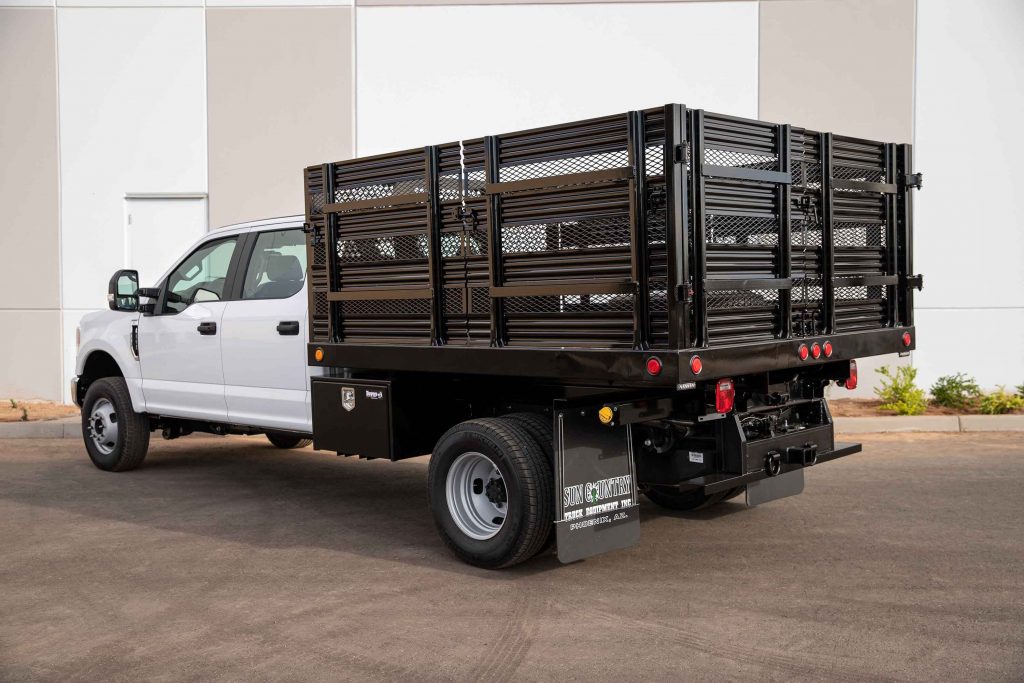 Designed with Unmatched Skill & Experience
Another outstanding reason that our clients continue to enlist our services is our level of expertise. For more than 20 years since our founding in May 2000, we have spent countless hours building a strong name for ourselves and mastering our craft. Our mission is to always go above and beyond the expectations of our clients, and this means training our technicians to provide the meticulous installation of interiors and modifications to bring your ideas to life. There is never a job too big or too small for us to take on; in fact, we continue to tell our customers, "If you can draw it on a napkin, we most likely can build it."
Sun Country Truck proudly partners with Kargo Masters to provide van equipment as well as ladder racks and roof racks. Their additional accessories include, but are not limited to:
Ladder Racks
Roof Racks
Interior Partitions
Job-Specific Shelf-Drawer Combos
Platform Body Legs and Bars
Service Body Legs and Bars
Shelves and Shelf Dividers
Drawer Bins
Drawer Cabinets
Refrigerant Tank Racks
Cabinet Lockers
Spindle Wire Holders
Mounting Hardware for Custom Designs
Hanging File Folders
Binder Racks
Floor Mats
Safety Grabs
Security Latch Kits
Contact Us for More Information on Custom Van Interiors in Phoenix, AZ!
At Sun Country Truck, the many benefits of our custom-designed van interiors make them ideal for your work vehicles in Phoenix, AZ. We value our customers' time and will go to work for you to satisfy your requirements immediately. For more information on our Phoenix, AZ custom van interiors and to receive an estimate, please contact Sun Country today to schedule a complimentary consultation!