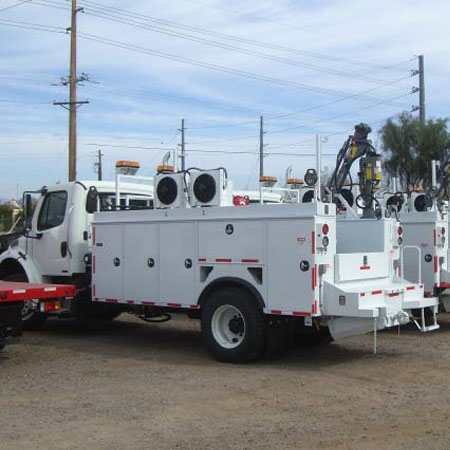 Custom Truck Bodies for Plumbers
Generally speaking, plumbers can use just about any truck or van to set out on a job. However, the amount of inventory brought with you to a job site can make the biggest difference in getting the job done in a timely and efficient manner. In plumbing, there is no one specific type of job site making it vital to have a vehicle that can house all of your necessary equipment, so you can be prepared for anything. A work truck is meant to be a portable workspace, inventory, and sometimes even an office. At Sun Country Truck, we specialize in creating custom truck bodies for plumbers to accommodate all of your on-the-job needs.
Sun Country Truck Equipment provides high-quality custom-designed trucks. We utilize the finest quality materials as well as partner with major name brands to offer our clients a dependable and custom vehicle that will withstand the test of time as well as allow you to get your job done more efficiently. We provide aluminum, stainless steel, and A60 Galvanneal for our custom service bodies for plumbers.
Our key interests are quality and service, and we take pride in providing the best value to our clients. Sun Country offers you the best possible configuration, whether you need a truck or van body, a modification, or a repair. We offer trucks and vans for a comprehensive list of applications, including plumbing. The adaptable service body from Sun Country comes with incredibly sturdy hardware and plenty of storage in a component-style design, making it simple to alter for the demands of the work.
A plumber must be available to take calls at any time. Although most plumbers work an eight-hour shift, there are frequently last-minute requests and emergencies that must be attended to. Plumbers require a long list of tools and materials to complete their jobs and must be prepared for any scenario as their work can be volatile. Thankfully, when you work with Sun Country Trucks, you can design a custom plumbing vehicle that will carry wrenches, flashlights, plungers, snake machines, goggles, gloves, screwdrivers, and much more, with convenience. We customize van interiors to allow for drawers, storage containers, shelves, and more, to create appropriate storage methods that will keep your tools in working order. This way both your vehicle and its contents will last for the many years that you are in business.
Sun Country offers several custom truck accessory options such as ladder racks, hooks, toolboxes, and workbenches, to add form & function to your plumbing trucks and vans. We work closely with our partners to ensure that all of our installations are done right the first time.
Weather Guard
Buyers
UWS
KNAACK
Kargo Master
Rack It, and More!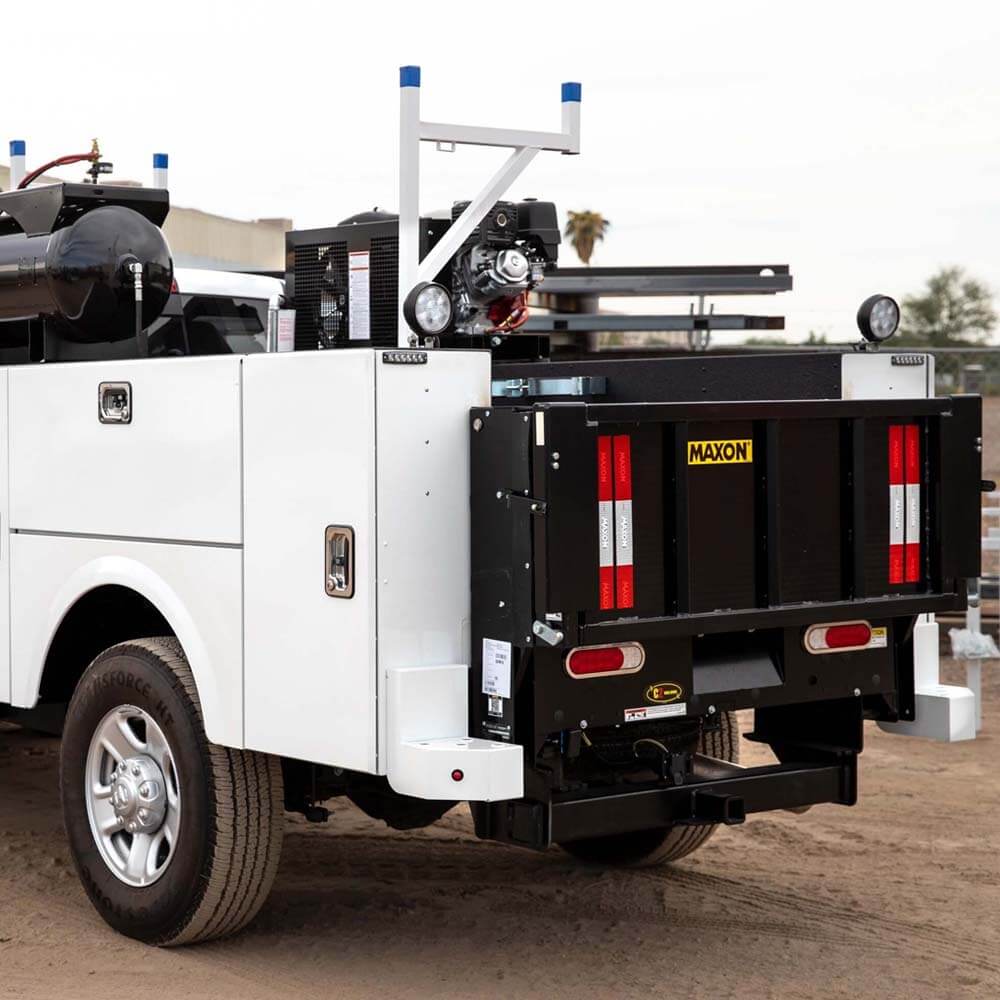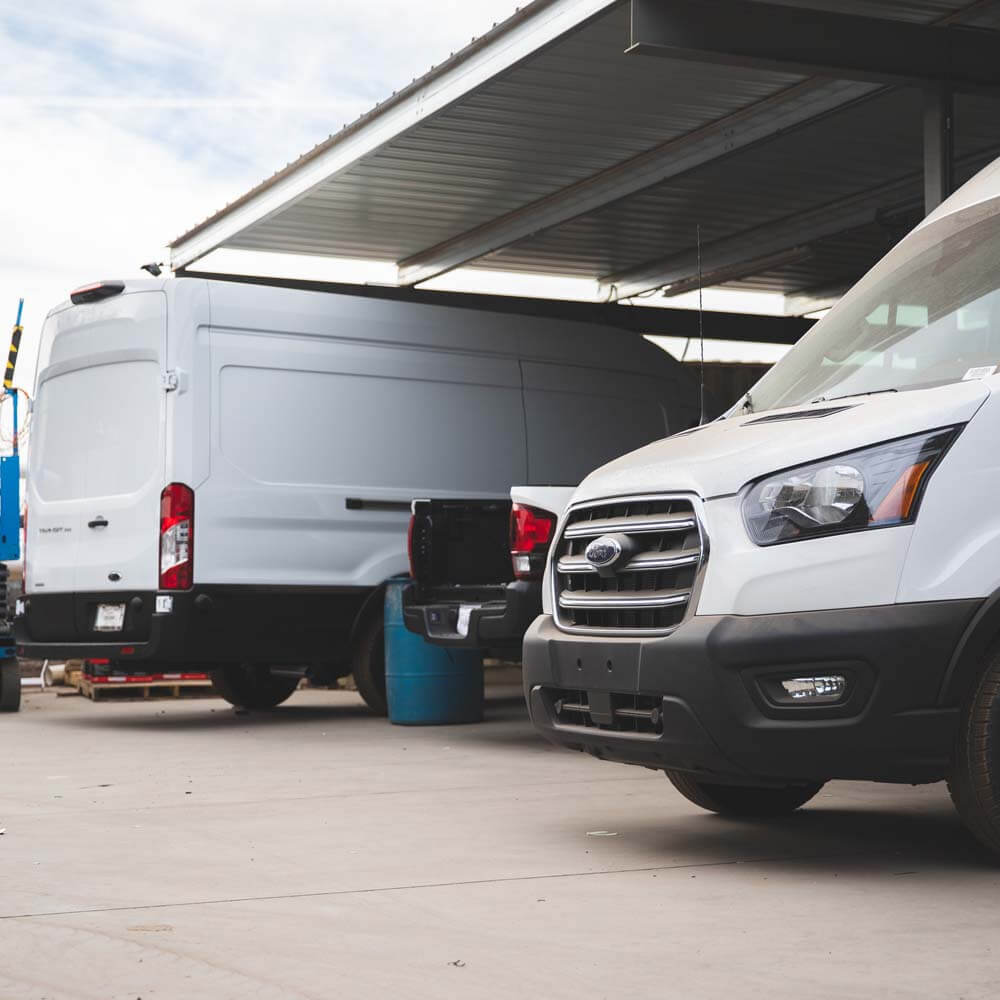 In addition, since plumbers need to transport a lot of equipment for their jobs such as pipes, P-traps, and pumps, they need particular types of storage for both large and little components. Plumbers use their custom truck or van to stay on the job rather than making a supply journey and keeping what they need there. With increased on-the-job proficiency, you can increase the number of jobs you take on in a day. For decades, plumbers that have chosen Sun Country Truck for their custom work truck body have profited from greater productivity!
Schedule a Free Consultation
Sun Country Truck Equipment has more than 20 years of experience in manufacturing custom trucks, customs vans for plumbers, truck accessories, and vehicle repairs. We have made it our priority over the last two decades to provide our clients with only the highest-quality work.
Our Phoenix, AZ factory offers the most advanced equipment and technology for customizing automobiles for dealerships, local service companies, and utilities. We service the entire Phoenix valley, including Phoenix, Scottsdale, Tucson, Mesa, Chandler, Gilbert, Tempe, and Glendale. There is no job too big or too small and we are happy to accommodate you in every way that we can. For more information about Sun Country custom trucks and all of our services, contact us today for a free estimate!