At Sun Country Truck Equipment, we provide custom flatbed trucks in Phoenix, AZ, for clients that are looking for the highest build quality. Sun Country Trucks' custom flatbeds in Phoenix are designed and engineered to increase productivity and to provide the highest possible safety standards. With a proper flatbed or stake body, you can take your business to the next level. When you are looking for a flatbed truck manufacturer, it is important to consider factors such as high-quality materials, truck options, and the level of knowledge upheld by their employees. Fortunately, Sun Country Truck Equipment effortlessly checks off these boxes and more.
Faster Loading and Off-Loading Materials and Machinery
Oftentimes, standard flatbeds only offer a door at the back of the truck, which can make it somewhat cumbersome to load or unload your cargo, tools, and more. Designing a custom flatbed can make access easier with doors on the sides of your truck bed. No more fumbling around. Instead, you can complete your jobs with ease thus increasing customer satisfaction. Quickly unload as fast as you load up and get to work. This can directly translate into higher efficiency, better organization, and increased word of mouth when your customers leave you reviews and tell their friends about your company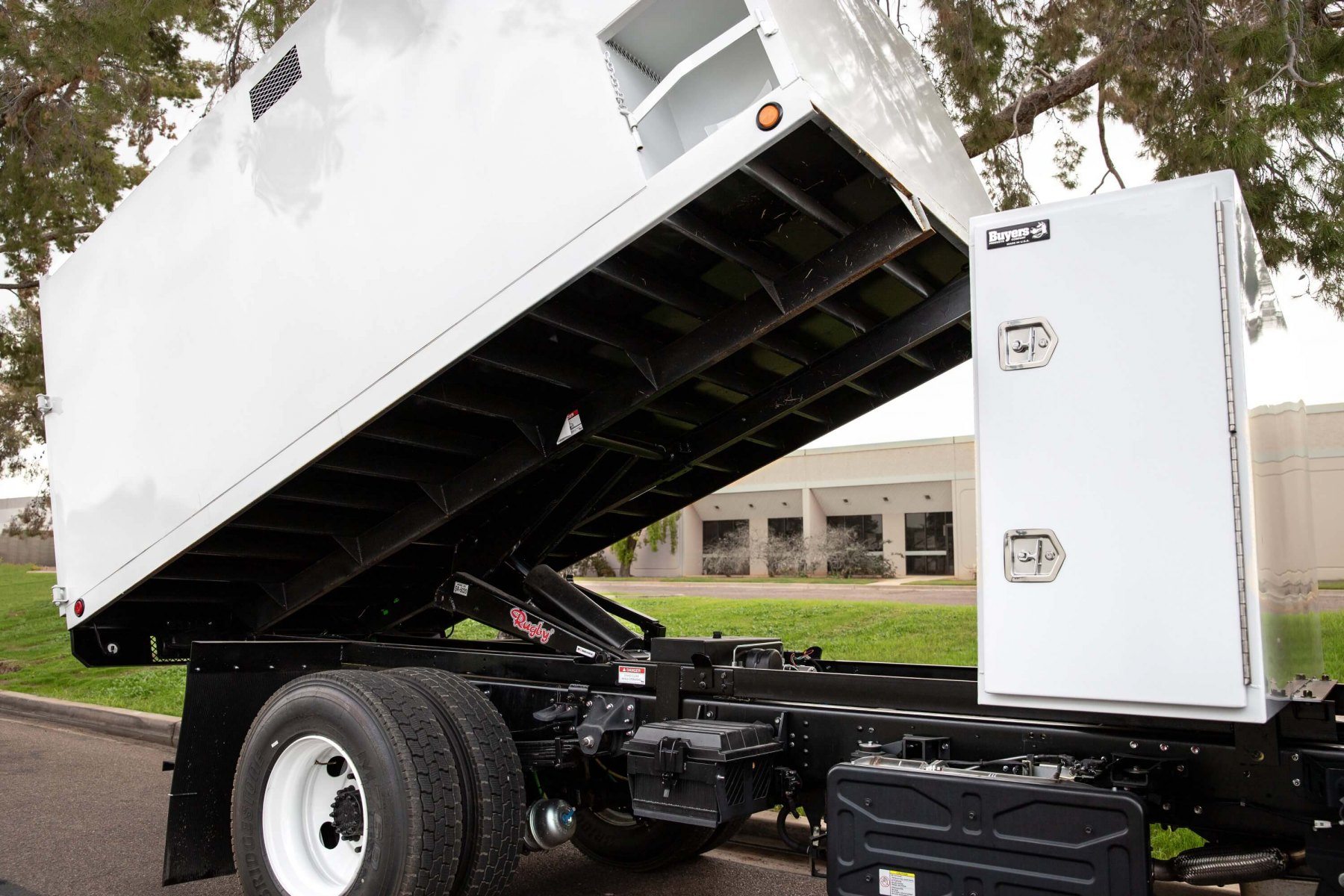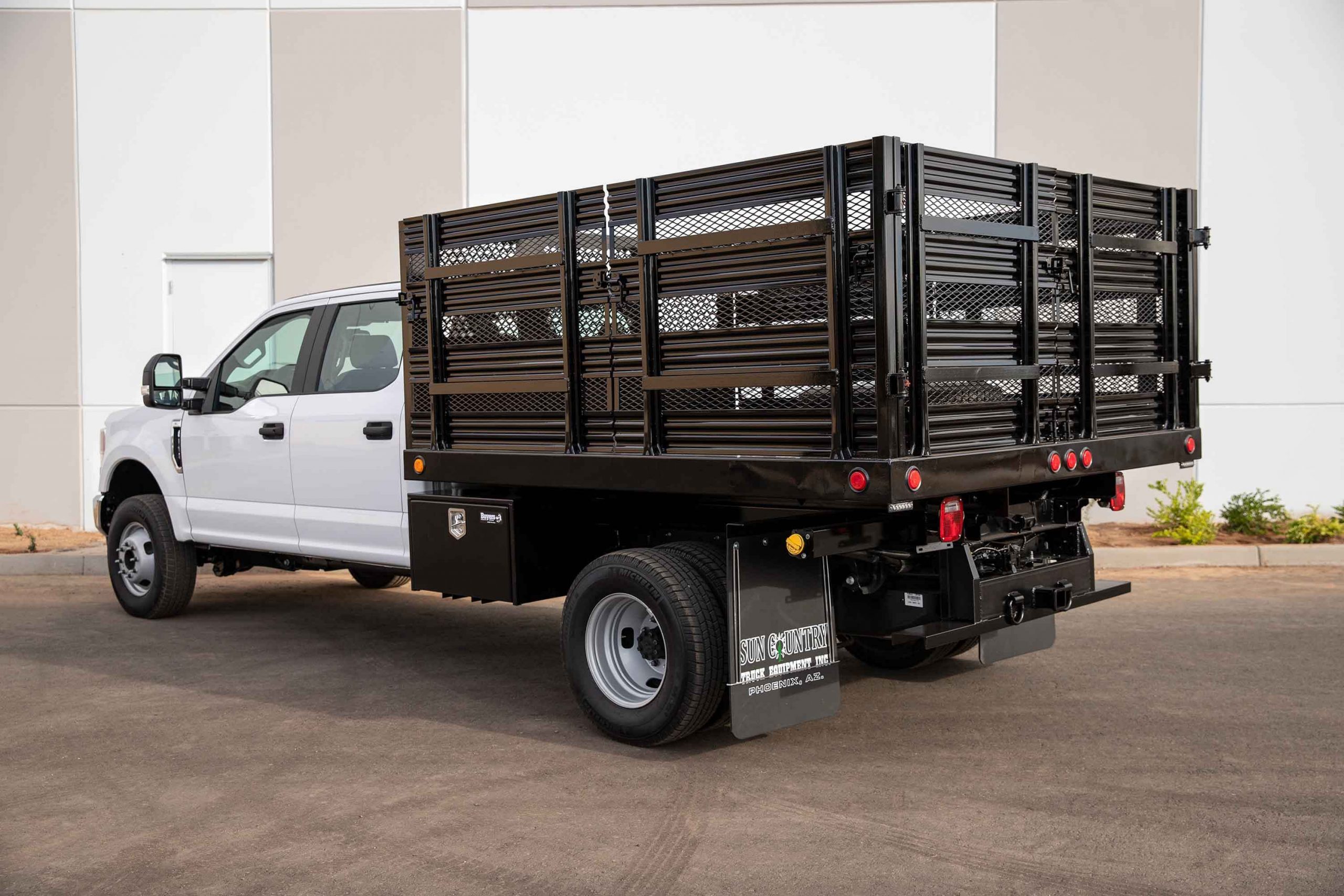 Larger Haul Capacity
Customized flatbed trucks in Phoenix, AZ from us at Sun Country will grant you the ability to increase the size of your haul. Whether you need a wider, longer, or deeper body, the choice is yours. No longer will you have to leave the awkward equipment that would not normally fit, causing you to need another truck to come with you.
Building materials such as lumber, concrete, bricks, scaffolding, steel beams, and other building items can be loaded, unloaded, and transported without any hassles with Sun Country flatbed trucks. If the products need further protection, you might choose to employ a flatbed truck with side rails or stake sides.
In addition, our custom trucks make it easier to haul heavy-duty machinery and scrap construction materials. Sun Country Truck is the number one option for Phoenix, AZ flatbeds and stake bodies that will fit the needs of your specific industry.
Safer Cargo
With the use of stake bed designs, your cargo becomes more secure. Stake bodies create a barrier for normal flatbeds that provides you with extra support for your cargo, preventing it from becoming unsecured and falling off or causing property damage.
Less Maintenance
When you choose a custom vehicle from Sun Country, you decide what it is built with. This way, you get exactly what you need and nothing extra. This decreases the number of moving parts on your Phoenix custom truck, reducing the amount of truck maintenance necessary and downtime.
Safer Employees
When you choose Sun Country Trucks to design your custom flatbed truck, you can help keep your employees safer. Our Phoenix custom flatbeds and stake body flatbeds are built with proper dimensions that can help avoid potentially dangerous situations. Custom trucks significantly reduce the chance of a truck rolling over and offer a much smoother ride to and from jobs. It can be harmful to your drivers if your cargo is very heavy or has an unusual form that makes one part of it heavier than the other. You do not want drivers operating a truck whose cargo has shifted the truck's center of gravity. Operating a truck that has shifting cargo can be an immediate danger to employees when they open the back. This is another reason to choose the stake body design.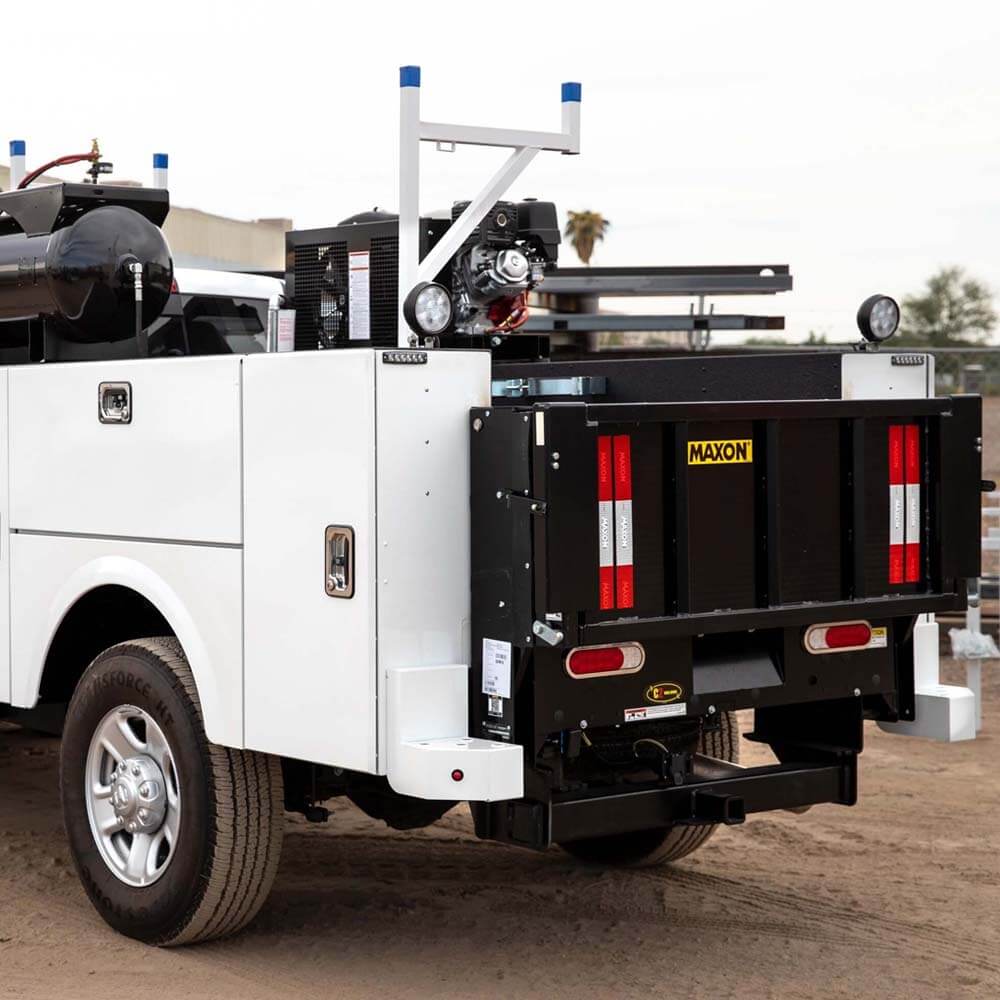 Are You Ready to Design Your Custom Flatbed?
If you are looking for the best custom flatbed, Stahl and Sun Country Truck are the premier choices here in Phoenix and throughout Arizona. For more than 20 years, we have provided the highest level of customer service and precision installations to provide the ultimate satisfaction. To learn more about custom flatbeds and all of Sun Country's products and services, contact us today!