Sun Country Trucking Equipment is the leading manufacturer and supplier of Phoenix dump trucks, dump truck bodies, landscape trucks, landscape bodies and related equipment -but that's not all. We also manufacture and install multi-industry work trucks, van bodies, flatbeds and stake beds.
SCT is a family-owned and operated business that strives for nothing but the best quality and customer service in the industry. We have amazingly fast turnaround times and do whatever it takes to make our customers happy.
We service the entire Southwest including all of Arizona and the surrounding cities in the Phoenix area:
Mesa
Tempe
Chandler
Phoenix
Scottsdale
Glendale
Surprise
Peoria
Sun Country repairs all types of truck and van bodies as well as their components - dry boxes, lift gates, reels, racks, etc. We service hydraulic and electrical components as well as perform frame modification like lengthening or shortening.
We specialize in building custom truck bodies and equipment. Our knowledgeable sales and shop team are able to help you customize your truck for your needs. Check out our photo gallery to view some of the specialized bodies we have manufactured. If you can draw it on a napkin, we can most likely build it. Call us today for a quote on your custom build.
Get the most out of your utility truck bed with a custom truck bed topper, truck rack, ladder racks, cab protector, custom & municipal lights and storage compartments. Our Weather Guard tool boxes can make the most out of every space in your truck bed. We offer saddle boxes, gull wing boxes, wheel well boxes, all-purpose chests, lo-side boxes, hi-side boxes, and super-side boxes. We even offer custom in-bed solutions like drawer units and sliding platforms.
CUSTOM TRUCK BED EXTENDER
We can fit nearly any make, model or year truck with a custom truck bed extender. We offer flip up and collapsible bed extenders based on your cargo needs
If you need a dump body, flatbed, stake bed, chipper body, service body or something in between – we are a manufacturer of custom truck bodies and accessories.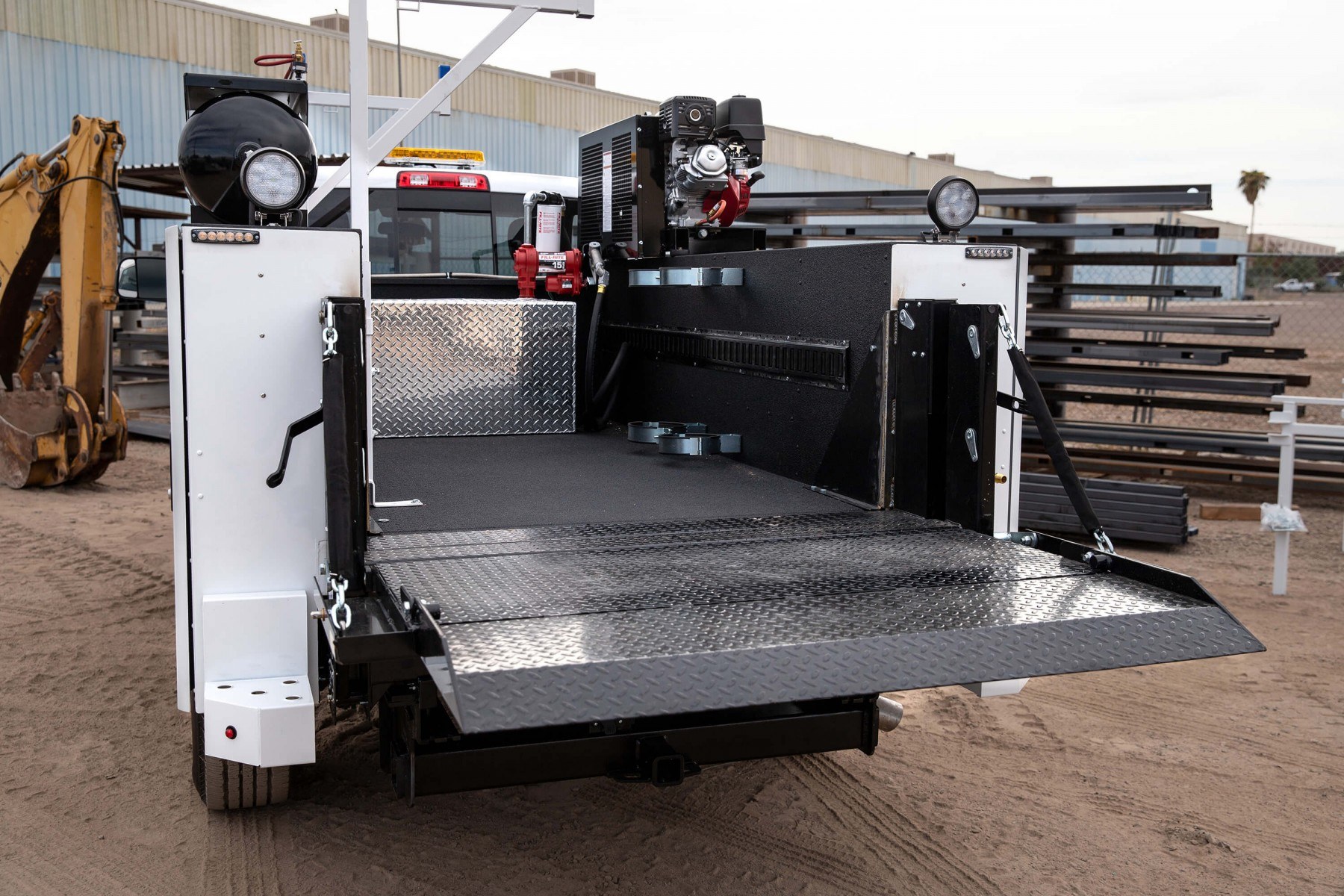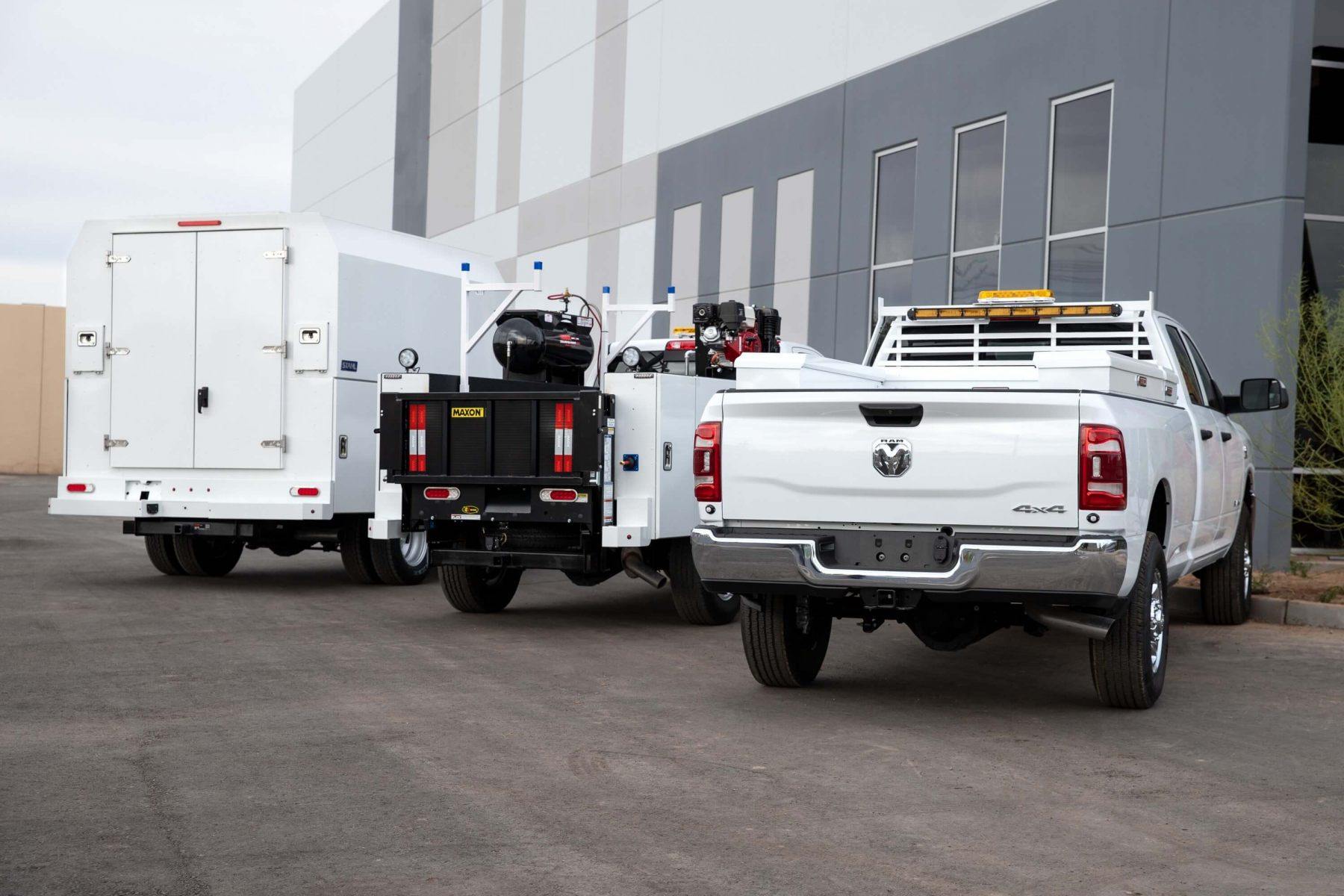 Sun Country offers a wide variety of custom bed toppers. We can install hard top, foldable covers and roll up covers for pickups as well as raised shells for commercial use. Choose from cab-high caps to aerodynamically designed mid & high-rise caps for even more cargo room. We can equip commercial caps with ladder racks as well.
When you work out of your truck, it needs to be tailored to YOU. Let us maximize your workspace so you can get the job done right! We can outfit a service body with a smooth compartment top, shelving, custom tailgate, horizontal and vertical doors with locks, custom lights, water cooler holder, cone holder, ladder racks, reels and hoses, generator mount, lift gate, tool boxes, tow packages, brake controllers and more!
Have some aftermarket accessories needs? You've come to the right place! Not only do we install accessories and parts for our custom bodies, but we can enhance the utility of any existing vehicle you bring to us. Our vast network of vendors and suppliers allow us to service the needs of our customers across industries. Our variety of hoists, lift gates, van uplifts, reels, tow packages, lights, storage boxes, Vanair and VMAC underhood air compressors, racks, trailers, hitches & accessories can transform your vehicle to be the efficient powerhouse you need.
We do custom fabrication of truck bed trailers to accommodate your towing and storage needs. We offer a variety of hitches and towing solutions. We also have many underbody and in-bed storage boxes designed to fit your specific trailer.