In the early 2000s, two trucking enthusiasts, Tim Williams and Scott Bennett launched Sun Country Truck Equipment. It didn't take long to become one of Arizona's most highly regarded custom truck body manufacturers. The duo's sole objective was to provide excellent customer service while manufacturing and supplying high-quality equipment.
Over the years we have garnered an enviable reputation as one of Arizona's long-standing custom truck body manufacturers. Today, Sun Country Trucking Equipment is still family-owned and run and based out of Phoenix, Arizona, where all the equipment is produced. Have specific transport needs? Talk to us about our custom fabrication of van uplifts, reefer bodies, and dry boxes.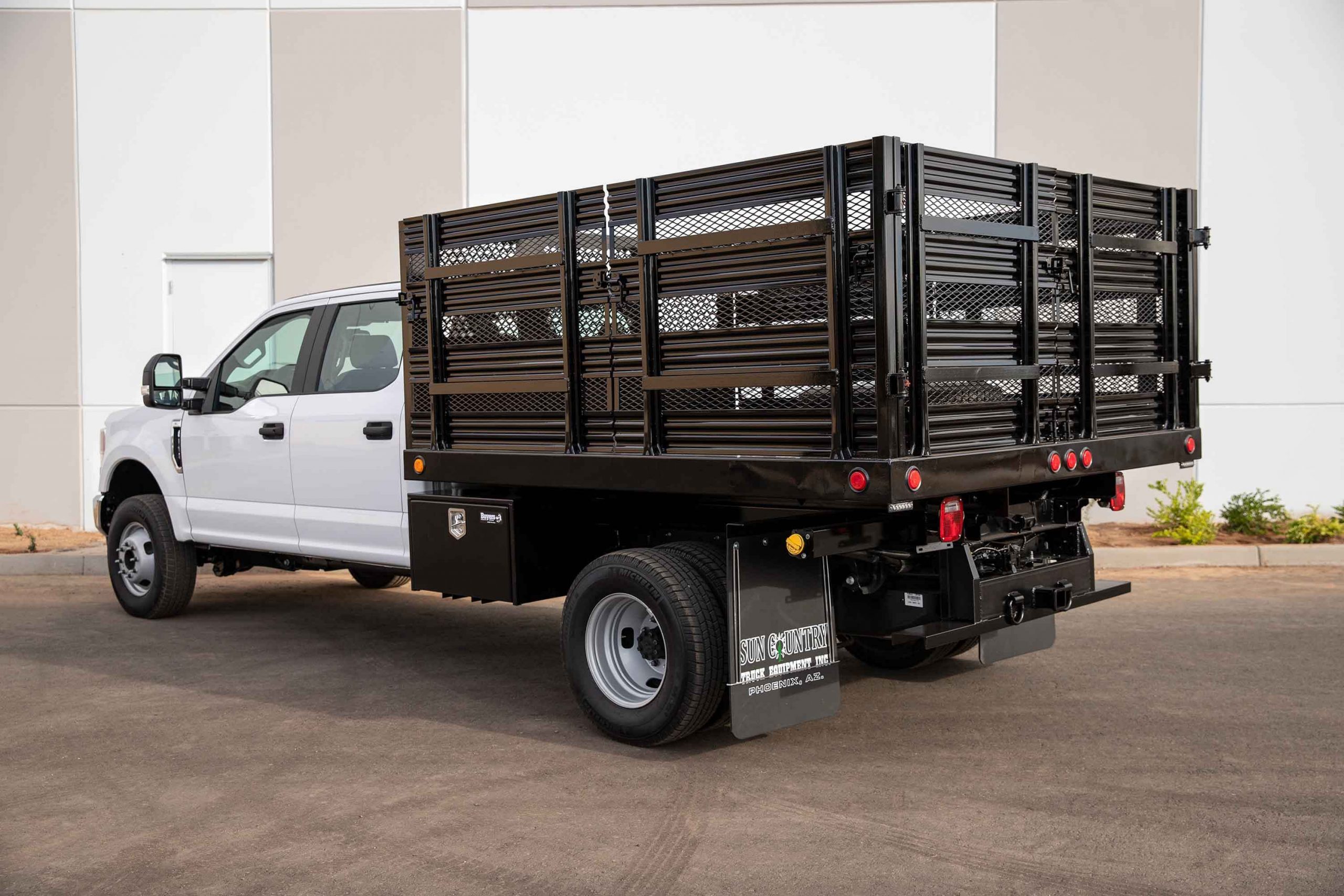 Sun Country Truck bodies can be engineered to be any size or shape. With the use of high-quality parts and accessories, the SCT Landscape is built to your exact specifications. Buyers and Weather Guard storage chests and tool boxes are just a few of the brands we have in our inventory. In addition, Sun Country Truck is a distributor of Whelen lighting systems. These enable us to install specialty lighting not just for landscaping and dump bodies but also for service bodies and flatbeds. We also provide a variety of other services, including but not limited to manufacturing, custom fabrication, and repairs.
We can customize stake bodies for varying lengths and to accommodate dry freight boxes. Our landscape bodies can employ stationary beds with latch doors or utilize a hoist system dump body.
Rugby's landscape body offers versatility and easy access. It features a curbside swing-out door and rear barn doors over a drop-down tailgate. And the upper pins are secured with Rugby's EZ - Latch™ system.
Clean up with our premiere dump body - the SCT Chipper. Specify your cargo size, and we'll fabricate a custom truck body with accessories tailored to your needs. Our Clean Up Series includes:
The Dump box is fully enclosed with custom ventilation and a swing-open side door. It features a flat base above the floor, ideal for cab-over trucks. It provides clearance for frame-mounted battery boxes and tanks such as a custom water cooler holder. Two stationary shelves plus floor storage provide ample room. Stainless steel locking T-handle latches and gas spring door openers offer convenient access. Automotive style rubber D-bulb sealed doors and a built-in rain gutter protect against weather and grime. Two full-height doors with stainless steel, 1/4 in. pin continuous hidden hinges. Built-in frame mounting rails save time on installation and eliminate interior holes.
The Buyers dump hitch plate bumper has a corrosion-resistant powder coating and provides ICC bumper protection. It handles loads up to 17,000 lb.
When it comes to truck customizations, Rugby Hoists are durable, performance-driven, and ideal for a wide range of applications. The pre-assembled rear hinge increases strength while also making installation easier. Both cylinders of rugby hoists can extend and retract at the same time because of the presence of a stabilizing device. The hoist responds more quickly when the cycle time is short. High-pressure hydraulics generate more power while requiring less weight than conventional hydraulics. Cylinders are precision-machined from high-strength, hard chromed steel tubes to provide maximum performance. Our hoists are time-tested and proven to last.

Contact us to schedule a no obligation consultation
Sun Country Trucking Equipment offers a large assortment of high-quality used trucks, vans, bodies, equipment, and accessories. Need to know the benefits of purchasing used/pre-owned trucks and accessories? Please contact us if you are interested in any of our services or have any questions, or would like to customize your car, truck, or equipment.
At Sun Country, our customers are always first, and we go above and beyond to meet and exceed their expectations. Whether it's a straightforward installation of a service body or a sophisticated custom task, our technicians are highly skilled and certified to perform the assignment. Unsurprisingly we've gained top honors as one of Phoenix, Arizona's premier custom truck builders.