In the Valley of the Sun, Phoenix, AZ, Sun Country Truck Equipment offers and installs aftermarket van accessories, such as truck lights, ladder racks, hitches, truck liftgates, truck tool boxes, generators, air compressors, and more to help simplify your workflow. We utilize these Phoenix, AZ van accessories and custom truck fittings in our original designs to create premier, bespoke trucks and vans that will enhance your work and last for many years. We have more than 20 years of experience in providing our customers with high levels of customer service and meticulous installations. As a result, we have become a top choice in Phoenix, Arizona, for truck equipment.
Custom Ladder Racks
Our selection of ladder storage solutions includes racks for vans, work trucks, and bespoke truck beds. The team at Sun Country Truck Equipment focuses attention on your needs and selects the right equipment to fulfill them. Our Phoenix, AZ ladder racks for trucks are available from Weather Guard, Kargo Master, and Rack It. These custom ladder racks help ensure greater safety for your employees and are made with high-quality materials to help ensure your satisfaction.
Custom Truck Toolboxes in Phoenix, AZ
A wide variety of flatbed and truck bed toolboxes made by Weather Guard, Buyers, USW, and Knaack are available at Sun Country Truck Equipment. We take into consideration the safety, use, and protection of your tools. With our Phoenix, AZ custom toolboxes, you can take your truck or van to the next level and transform them into your all-in-one workstation. This way, you can avoid leaving anything behind, which can cause your job to take twice as long, which can also lead to dissatisfied customers. In addition, our custom truck toolboxes are made from top-quality materials, including carbon steel, aluminum, and polyethylene. As such, they can endure harsh environments.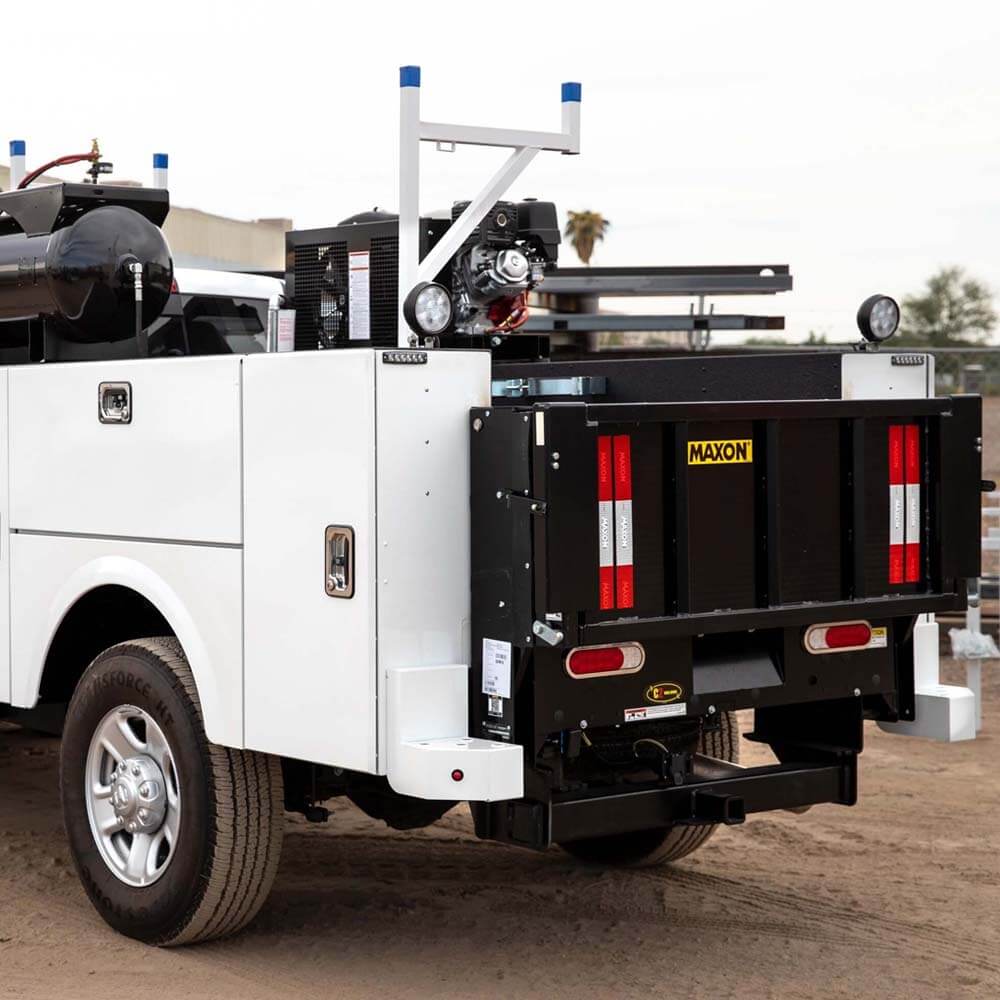 Generator Installation for Custom Work Trucks
At Sun Country Truck Equipment, we provide under-hood, underdeck, and standalone generators. Our under hood and underdeck options from AuraGen have no motor brushes to wear out, have only one moving part for increased longevity, and provide up to 8 kW continuous and 9 kW Peak Power output. Our standalone options from Honda and BossAir can be mounted or loaded onto your vehicle when needed to ensure that you can carry on with your job without needing to call for backup.
Phoenix, AZ Custom Work Truck Air Compressors
BossAir, Vanair, and VMAC under-hood and above-deck air compressors, as well as transportable Ingersoll Rand air compressors, are available from Sun Country Truck Equipment. Our selection of truck air compressors is ideal for those who are looking to increase efficiency and reliability. They are an excellent way to save cargo space without sacrificing your ability to complete your job.
Custom Truck Body Hitches
Sun Country is proud to work with CURT as a supplier of customizable truck and van hitches in Phoenix, AZ. CURT is the leading manufacturer of custom-fit hitches. They provide a wide range of towing hitches, including receiver hitches that are custom-fit for almost all vehicles in North America. We utilize CURT truck hitches as well as their vast selection of electrical parts, ball mounts, trailer balls, cargo carriers, and other towing accessories when designing custom automobiles. In addition, for gooseneck applications, 5th wheel demands, and weight distribution requirements, we employ a range of CURT trailer hitches.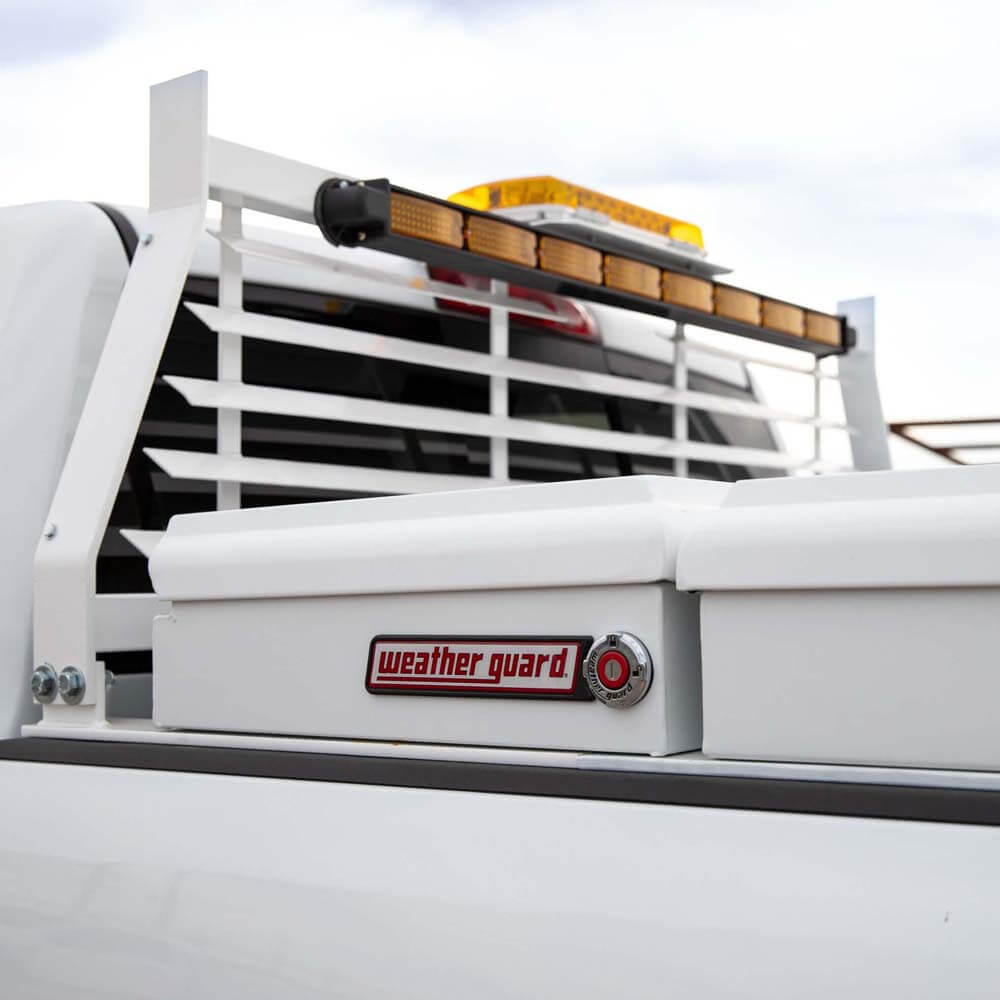 Lighting
Truck and van lights in Phoenix, AZ play a large role in safety as well as customization. Proper lighting choices can also boost efficiency and prevent overuse of your vehicle's battery. We offer LED lights for truck beds, custom van interiors, and truck undersides for a wide variety of municipal and commercial vehicles. This is made possible thanks to our partnerships with Whelen, Heela, ECCO, and Tomar.
Contact Us Today for Details!
Sun Country Truck Equipment truck and van accessories take safety, efficiency, and quality into consideration with our custom vehicles in Phoenix, Arizona. We aim to provide our clients with everything they need to make their daily tasks more efficient. Whether you are ready to begin designing a single vehicle or a full fleet, the team at Sun Country Truck is ready to diligently meet all your specifications. For more information about Phoenix custom trucks, our accessories, and all our Phoenix, AZ van accessory installation services, contact us today to schedule your free consultation!