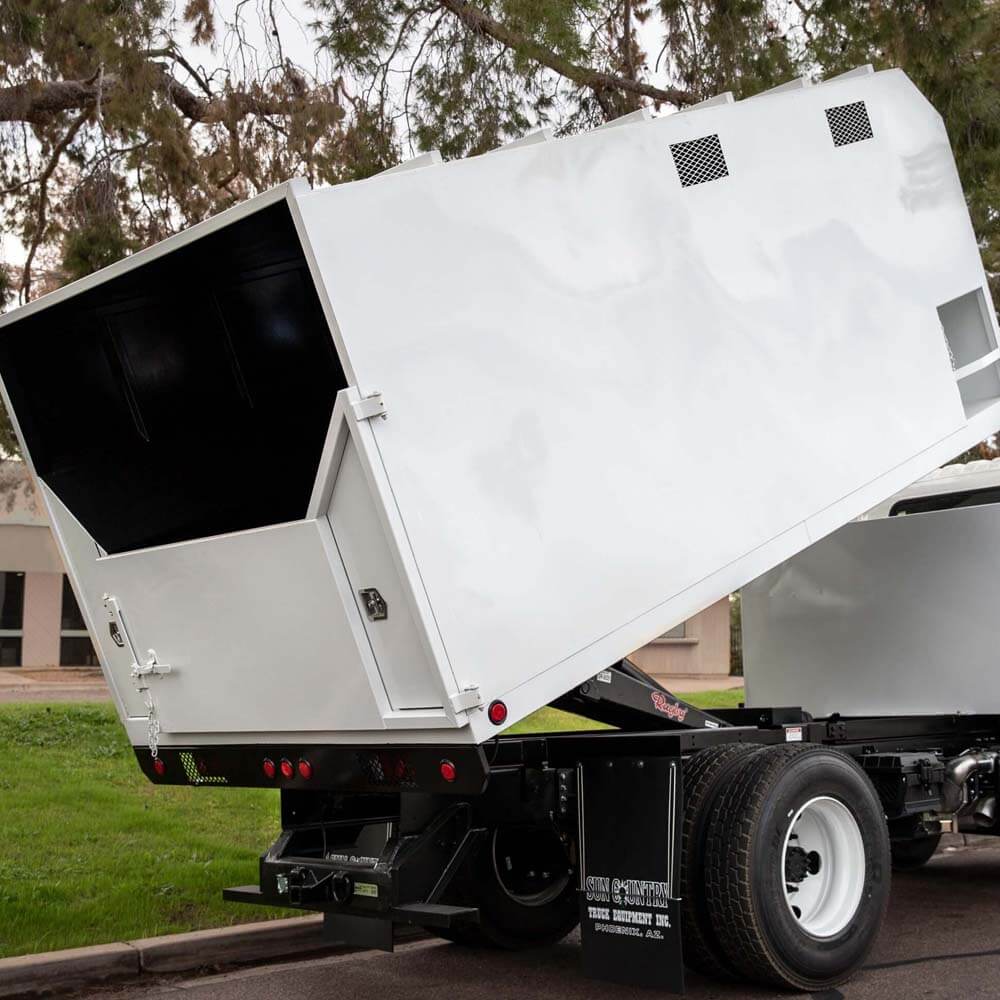 Users can rely on Rugby's line of Eliminator Phoenix dump bodies for quality, dependability, and adaptability. To accommodate a range of light-duty applications, we provide many model options. Rugby Eliminators are efficient, trustworthy, and diligent dump bodies.
Rugby light dump bodies are corrosion-resistant and more durable than high-tensile steel. They weigh up to an astonishing 50% less than traditional materials increasing your power-to-weight ratio and providing superior strength. With this in mind, customers will experience better gas mileage, increase their efficiency, and lower their maintenance costs on the tires and breaks resulting in many years of performance.
Rugby's Eliminator LP dump body is a class 3-5 industry leader that features a sleek design and is available in carbon steel, stainless steel, and aluminum. The Eliminator LP is available with rigid or fold-down design as well as 9' to 12' lengths with 12" to 17" side height varieties.
In addition, their unique EZ-LATCH™ system is integrated into the Eliminator LP, which also has a one-piece floor, dirt-shedding sides, a quick-release lever in the center for versions with fold-down sides, and a centrally situated quick-release lever.
Rugby provides Contractor Dump Bodies, Titan Dump Bodies, and Eliminator Medium Duty Bodies to maximize your payload and achieve optimized productivity with Rugby Medium & Heavy-Duty dump bodies.
Contractor Dump Bodies
Available in 12', 14', and 16' lengths, Rugby's Contractor bodies provide the high-quality streamlined design and long-term durability that you expect. Contractor bodies also make it simple to load and unload with convenient fold-down sides. Finally, Phoenix contractor bodies offer volume capacities from 4-6 cubic yards.
Features and options include:
The center post can be simply removed using a single-pin release method.
Quick-release lever for fold-down sides in the center.
Fully boxed dirt-shedding top rails.
Independently movable center post and double door sides.
Titan Dump Bodies
Rugby welcomes the challenges of creating bodies that suit the needs and high standards of our clients while maintaining the excellent quality and durability that our customers have come to expect from our bodies. This has led to our proud introduction of the heavy-duty Titan. Titan boasts a modern, yet powerful, appearance thanks to its dirt-shedding top rail, 10-degree slanted tailgate, and radius front corner posts.
Get a Quote on A Custom Truck
Eliminator Medium Duty
Attach a Rugby Eliminator Medium Duty dump body to your powerful new cab chassis to increase your payload. When combined with a 22,000 GVWR chassis, the Eliminator Medium Duty has been developed to tow significantly greater weight than its light body counterpart. The Eliminator Medium Duty is designed with a flexible cab shield option for it to be tailored to fit any significant OEM's medium-duty chassis. This steel dump body is equipped with the innovations and premium quality you expect from Rugby and is prepared to work for you. These carbon steel modules come in lengths ranging from 9 to 12 feet, with side heights of 20 and tailgate heights of 26 inches.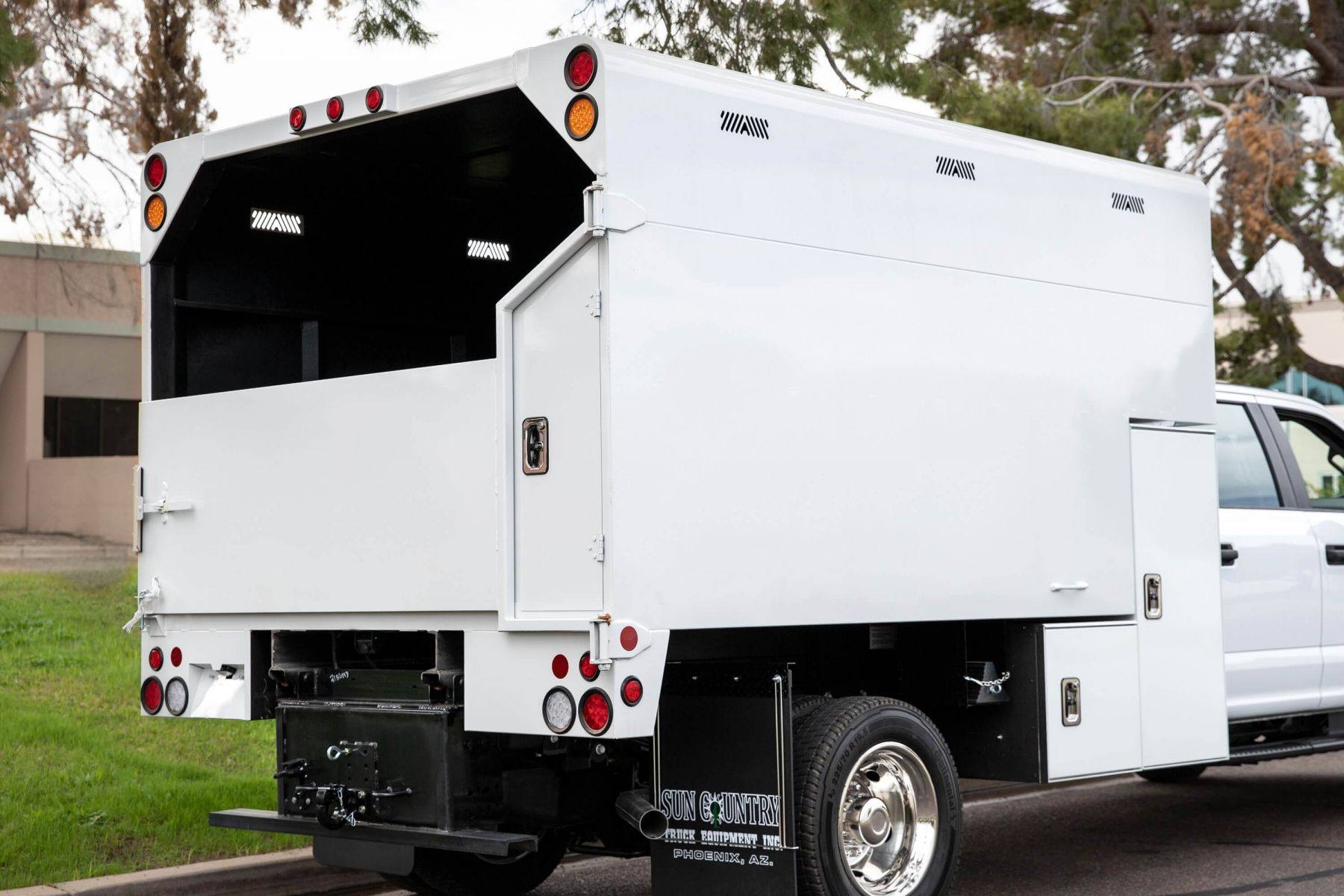 SR and LR Series Hoists
Rugby's series of tough scissor hoists can lift bodies up to 22 feet in length and have capacities ranging from 2.6 to 35.7 tons. To meet your demands, Rugby provides LR Series low-mount scissor hoists as well as SR Series subframe scissor hoists. Additionally, Rugby hoists have a black powder-coated surface that is rust-and wear-resistant.
TR Series Trailer Hoists
To ensure even greater performance and durability, the TR series has been completely redesigned and put through rigorous testing to ensure superior results. Receive strength, effectiveness, and dependability with the tough and long-lasting Rugby trailer hoists. Rugby provides 8 versions of trailer hoists that are created and developed exclusively for dump trailers, drawing on more than 50 years of hoist expertise. The top-of-the-line trailer hoists from Rugby are made to accommodate trailers that are 8 feet to 24 feet long and have lifting capabilities ranging from 3.2 to 16.8 tons. Rugby's TR series offers direct push and scissor hoists to meet all of your demands.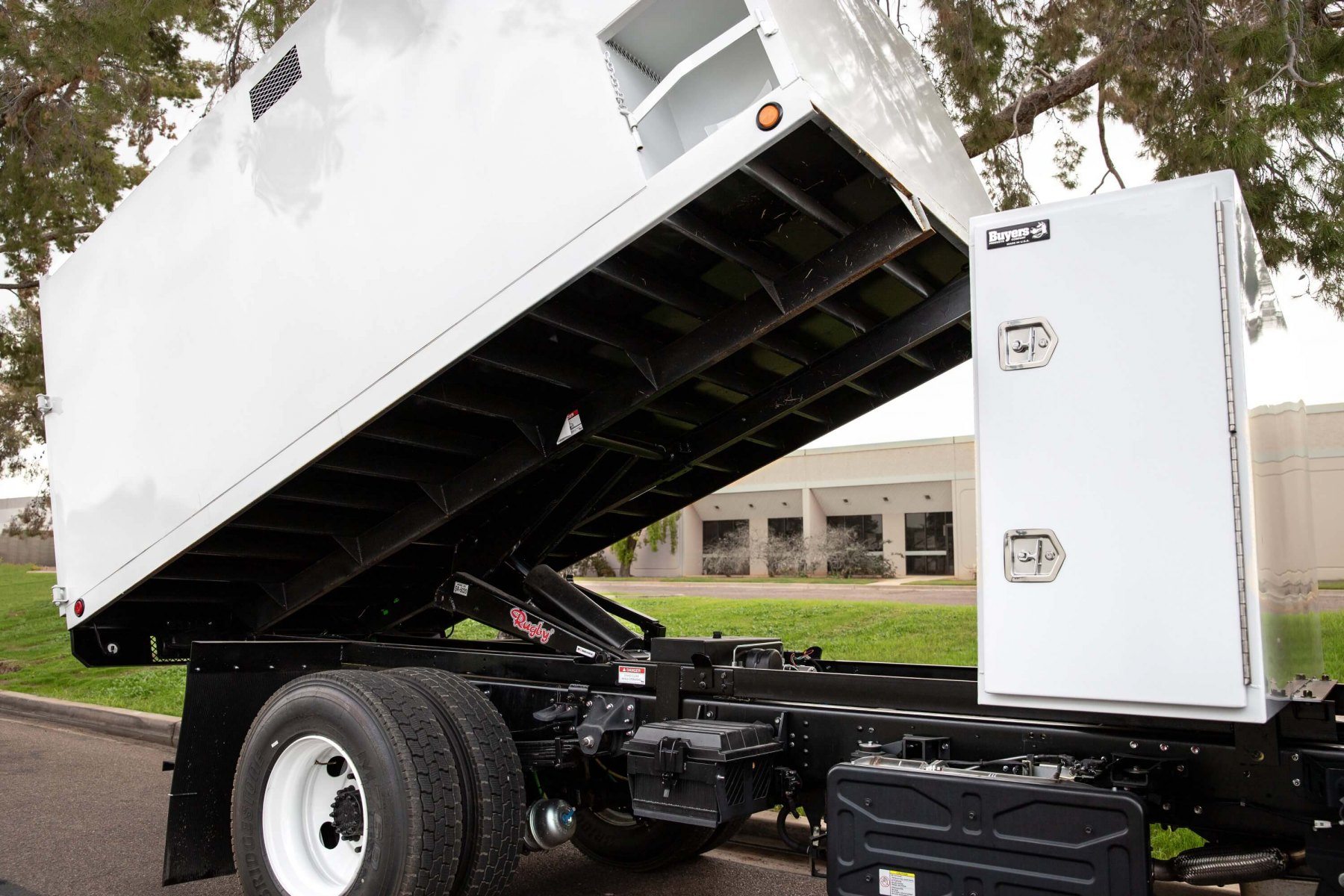 Twin Telescopic Conversion
Rugby offers heavy-duty Twin Telescopic Conversion Hoists that can lift bodies up to 28 feet in length and have capacities ranging from 10 to 50 tons. Its broad stance design and tubular structure boost strength and reduce twisting to support heavy loads. The Rugby Twin Telescopic hoist attaches low between the frame to avoid notching the body cross member.
Schedule a Free Consultation
Sun Country has offered consumers top-notch, ready-to-work transportation solutions since the early 2000s. We are now the most well-known producer of Phoenix, AZ work truck bodies for electricians, truck beds, vans, and other vehicles for electricians to thrive in their industry. We are dedicated to providing our clients with the highest level of customer service and attention to detail. You can count on Sun Country Truck Equipment to start and finish your designs in a highly efficient manner every time. For more information about electrician custom truck bodies and all our other vehicle services and products, contact Sun Country Truck Equipment today!