Phoenix, AZ Custom Service Truck Bed
Norstar service truck beds are designed with a top-quality steel structural frame. They feature multiple toolboxes to ensure that you never have to leave anything behind and full LED work lights so that you are never left in the dark. In addition, you will find standard galvanized tool shelves for increased organization so that you can turn your truck into an all-in-one workstation, from the job itself to the paperwork.
Some of the many options available for custom trucks from us at Sun Country Truck Equipment include:
SR Norstar Diamond Plate Flat Bed
SD Norstar Service Deck Bed
UB Norstar Service Bed
SC Norstar Service Bed
SL Norstar Service Bed
Phoenix, AZ Norstar Flatbeds
Everything you want in a flatbed arrangement is provided with the Norstar SR model. Norstar provides gooseneck troughs for a boost in towing, underbody locking tool bins for additional storage, spare tire mounts for unanticipated situations, and a variety of other choices to customize your truck bed for your residential or commercial needs in Phoenix, Arizona.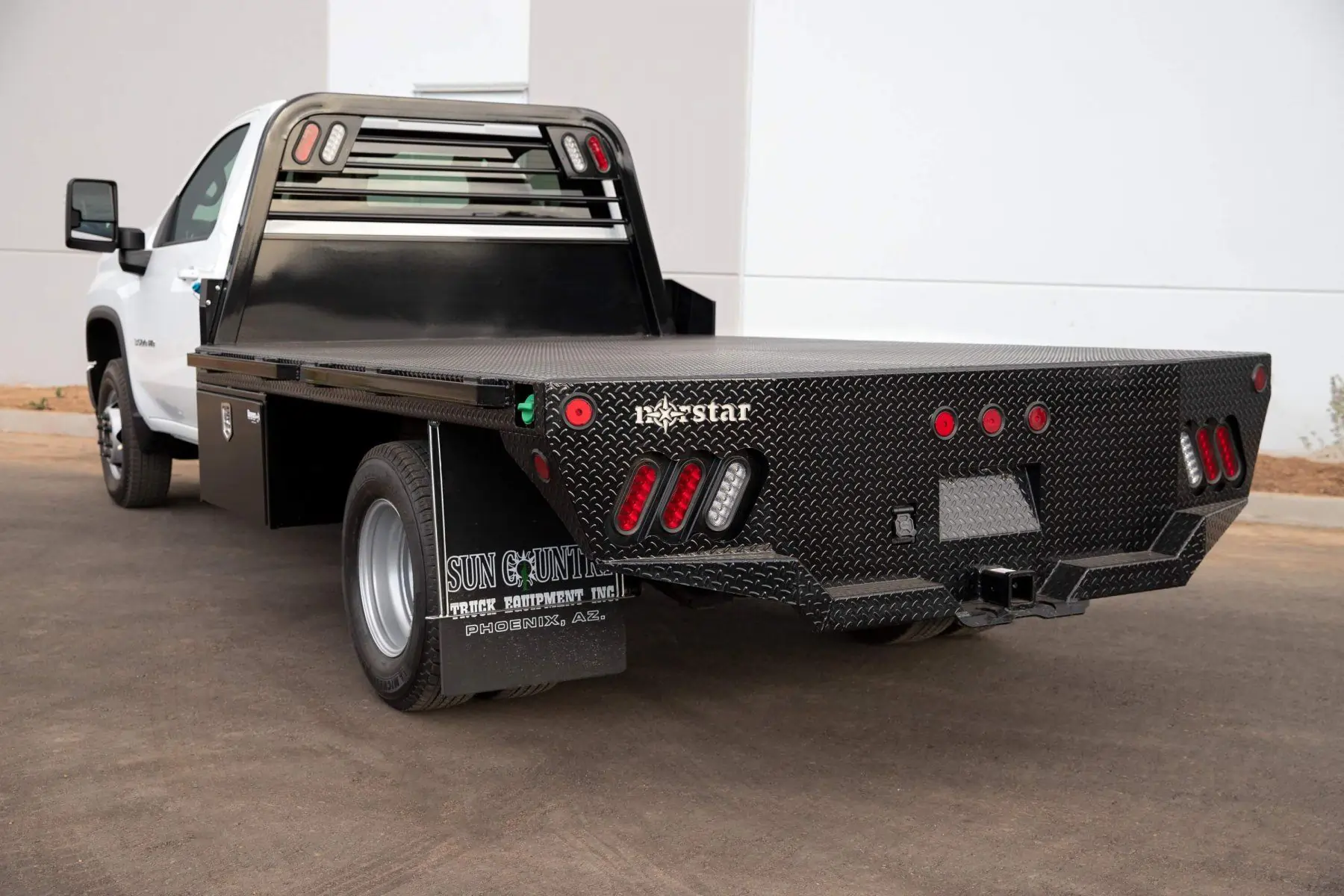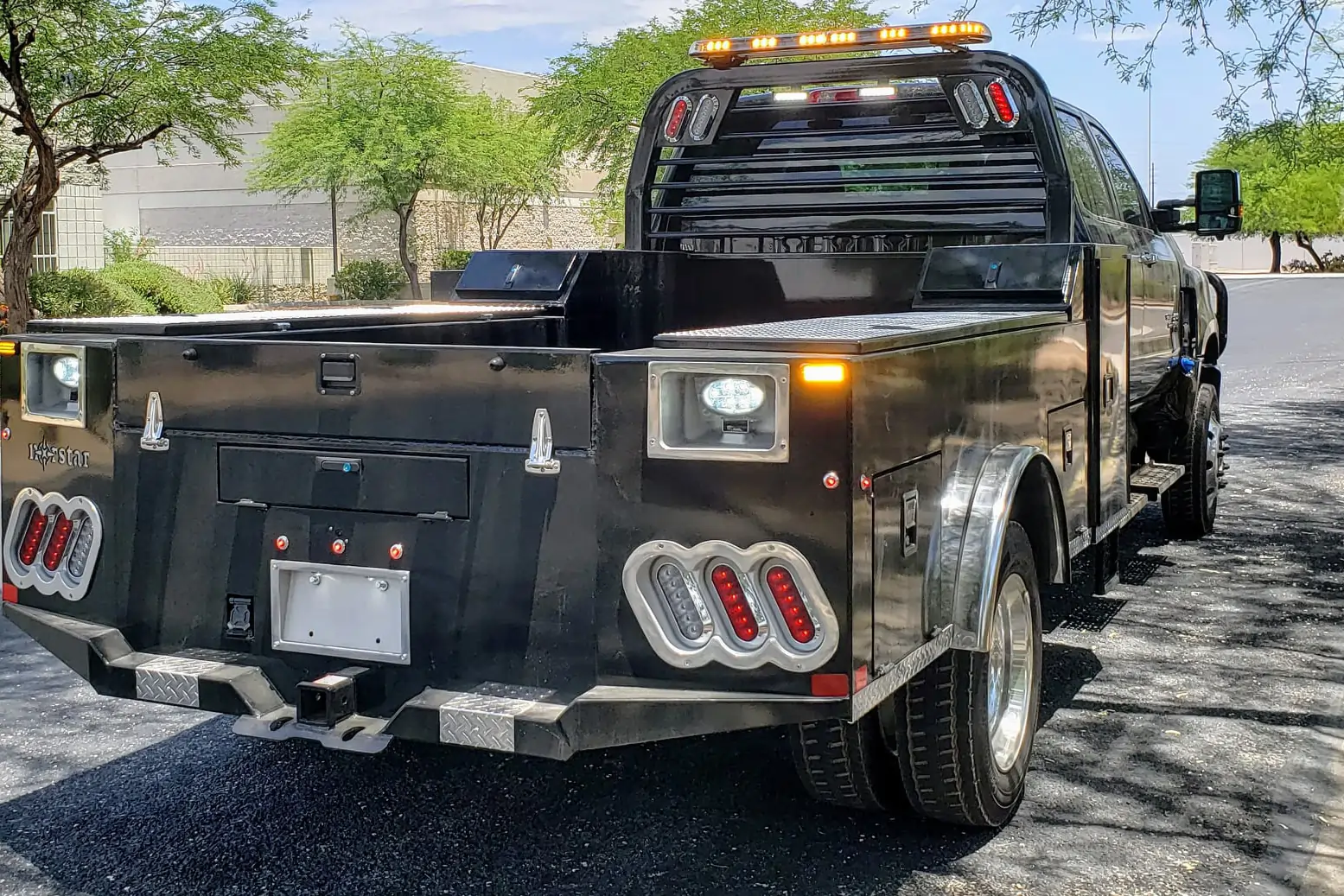 ST Skirted Bed
If you require a functional truck bed with some additional built-in storage, an ST skirted bed from Norstar can help. Highlights of this bed include its four locking boxes, which are paired with its 10-gauge sides and 11-gauge full-skirted bumper. This bed can handle your everyday workload and fits perfectly on any single- or multiple-wheeled work vehicle.
WH Western Deluxe Bed
Norstar's top-of-the-line bed is the WH Western Deluxe Bed. There are several accessories, and every detail has been optimized to provide a great fit and finish. However, this bed is not just for show. These custom truck beds have the same durable construction as any Norstar bed and can handle nearly anything your rig can pull.
Norstar Aluminum Truck Beds
The AR aluminum flatbed has a tongue weight of 6,000 lbs., a receiver hitch rated at 14,500 lbs., and a recessed 2 5/16" gooseneck ball rated at 30,000 lbs. The conventional SR model's solid steel chassis, 12-gauge aluminum rear skirting, headache rack, and extruded aluminum decking are all utilized in the construction of the AR bed. This gives it a greater strength-to-weight ratio than a flat aluminum deck would. In addition, the AT Skirted Aluminum Truck Bed is designed for people who want a little bit more storage than typical aluminum flatbeds.
Iron Bull Trailers
There are several Iron Bull trailers available from Norstar that merit your attention when considering your transportation needs with Sun Country Truck Equipment in Phoenix, AZ. The most popular versions from the brand come with extras like ramps and electronic brakes. You can additionally buy add-ons for your tilt deckover, gooseneck deckover, or dump trailer. Iron Bull trailers are designed with top-quality steel, include LED lights for enhanced visibility, and are available in five varieties (Dump, Equipment, Deckover, Tilt, and Utility) with several model options.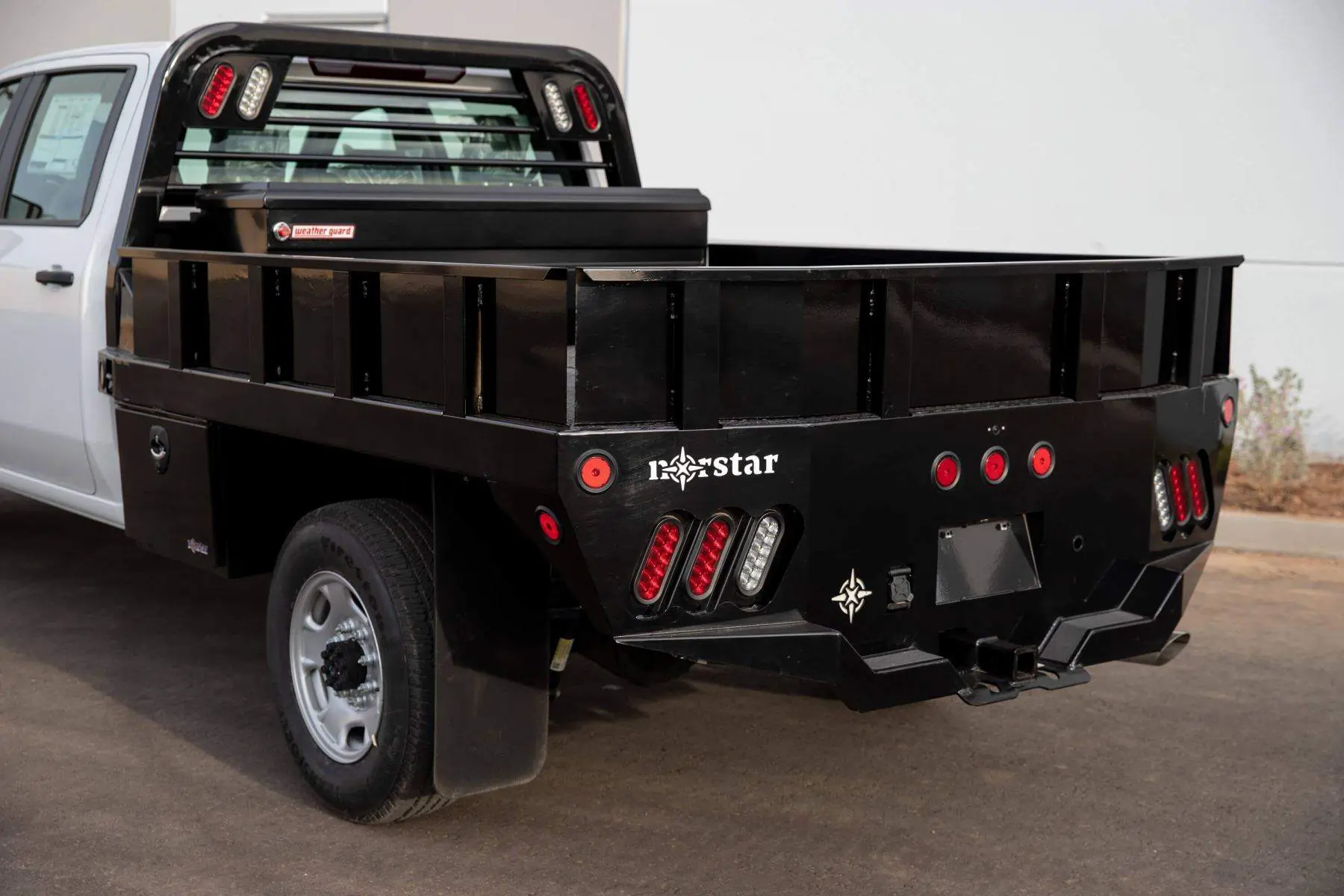 For More Information, Contact Us Today!
For more than 20 years, Sun Country Truck Equipment has worked to provide high levels of customer service and precision when creating your custom truck bodies in Phoenix, AZ., which includes offering truck beds and more from Norstar. We are the premier provider of these customized trucks throughout Arizona, and we are proud to work with Norstar, as they understand our commitment to quality and provide customers with a product that will meet their specifications and boost the efficiency of their daily work.
For more information, contact Sun Country Truck Equipment today to receive your free estimate!