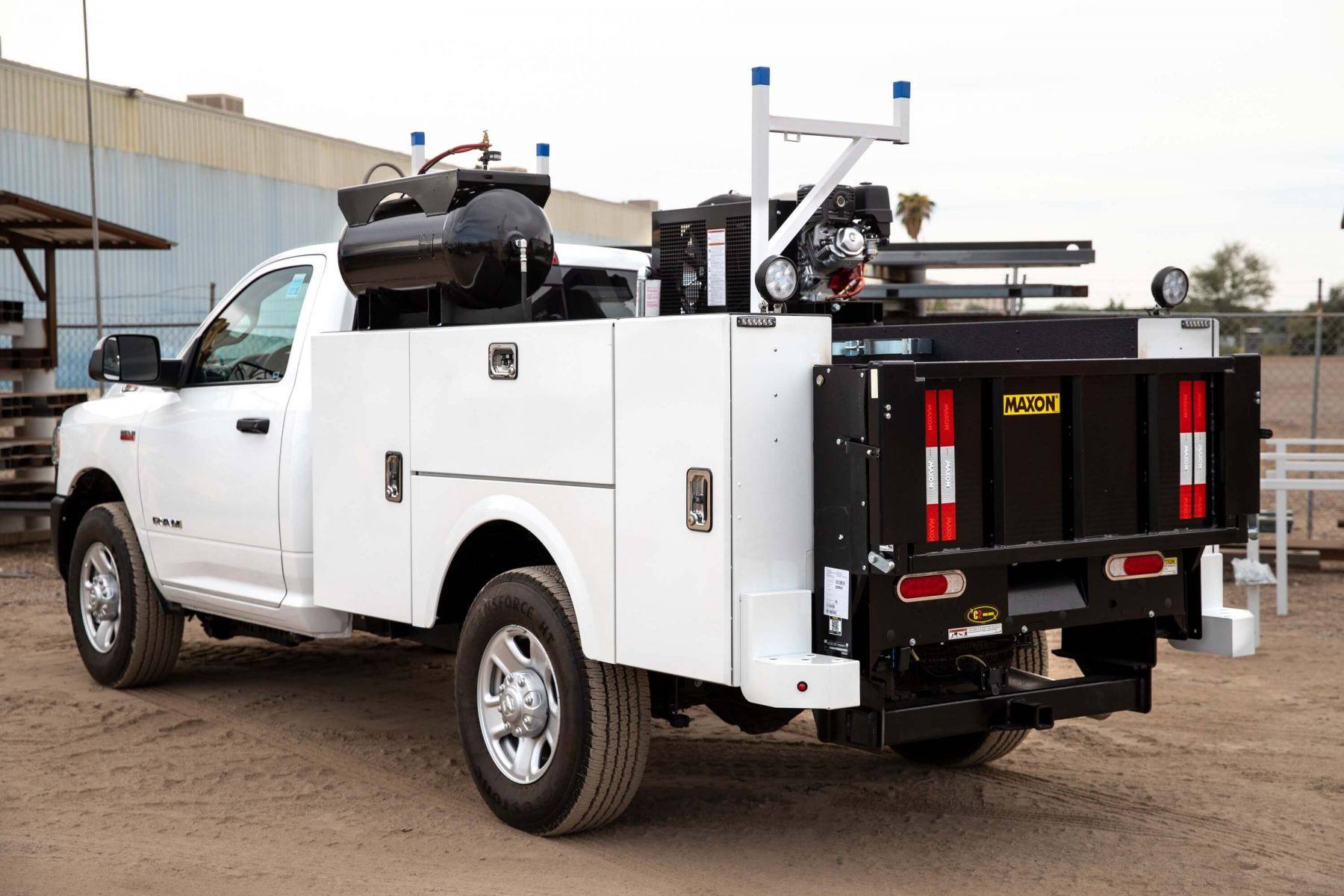 Light Duty Liftgates
Light-duty liftgates are made to make it simple, safer, and more affordable to lift small to medium-sized goods. Light-duty solutions for pickup trucks, service bodies, stake beds, van bodies, and cargo vans are available in Maxon's product line. They are designed with exceptionally high performance and low maintenance in mind. Features include:
Dual hydraulic lifting cylinders
Maintenance-free components
Protected/recessed main control with time-out features
Steel or aluminum platforms
Fully enclosed hydraulic system, and more
Raillift™
In the 1970s, Maxon was the first to introduce the rail-style liftgate to the U.S. Due to its heavy-duty level ride and dock loading capacity, the Railift series is a timeless design that can meet even the most demanding distribution requirements. With a mix of dock and street delivery, the Railift Series is excellent for bulk delivery and wheeled freight. For optimal load stability, Railift liftgates offer a level ride throughout the lift.
Conventional Phoenix, AZ Lift Gates
The conventional liftgate solutions from Maxon are exceptionally dependable and come in a variety of platform sizes. The conventional liftgate is the lift gate's initial design. These liftgates usually serve as the vehicle's back door or tailgate and are stored flush against the doors of trucks or trailers. These gates are designed for general freight loading and feature the largest platforms available. Benefits of this style of liftgate include:
Standard aluminum platform is robust and lightweight
Standard dual cart stops, and cab power cut-off switch
Waterproof hand-held remote control
Equipped with a Service Switch, which enables the service mechanic to operate and test all lift functions
Equipped with grease-free bearing
Tuk-A-Way®
Maxon is the proud creator of the Tuk-A-Way liftgate. This custom liftgate allows the platform to fold and be stored under the truck body when it is dock ready. Maxon now provides a diverse choice of steel and aluminum platforms in a variety of diameters, as well as a variety of bed height options. At Sun Country Truck Equipment, we can equip these many options to custom-design work vehicles. Tuk-A-Way® varieties include:
TE-20
TE-25/TE-30
TE-33
MXT-25/MXT-33
GPT
GPTWR
GPTLR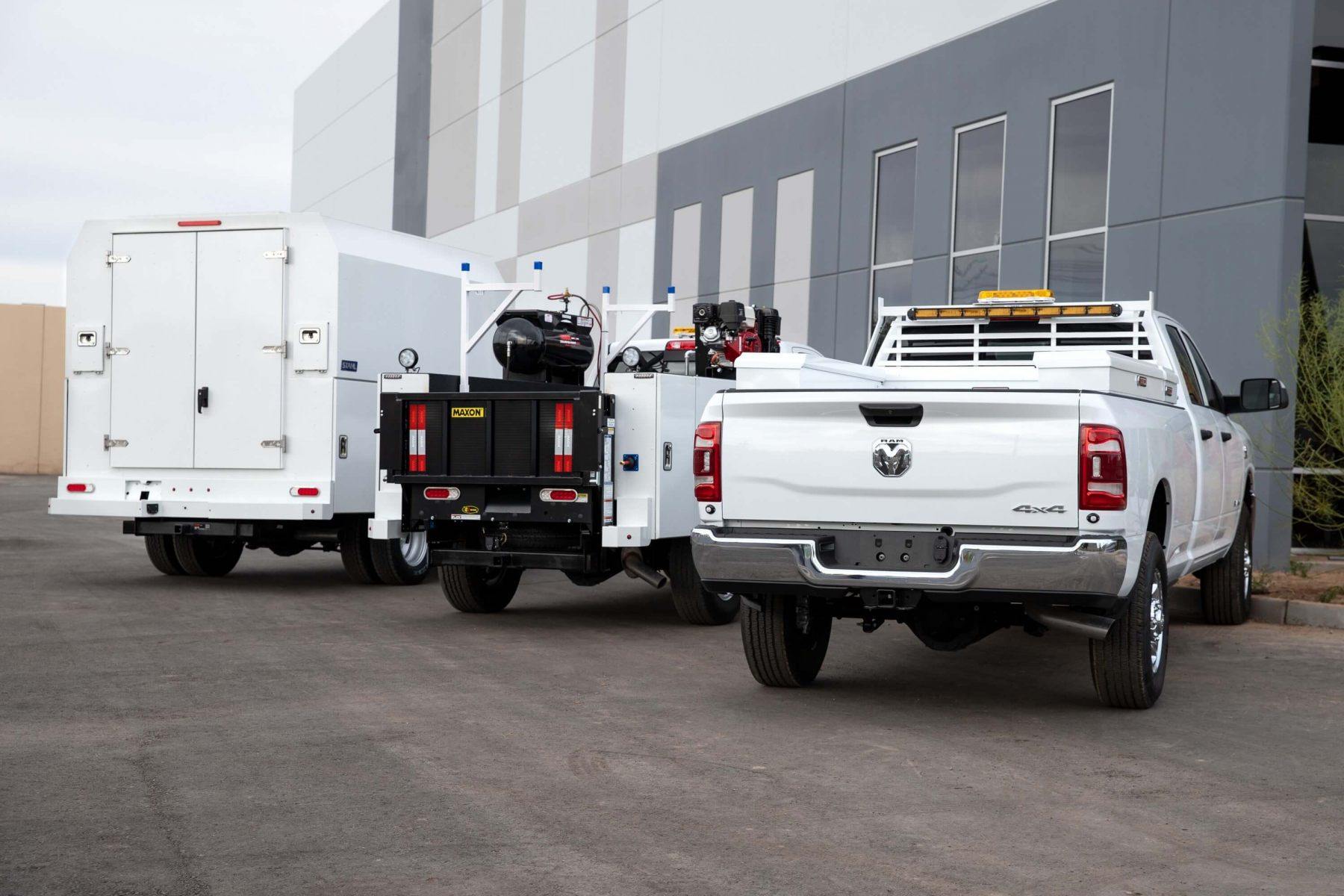 Slidelift™
The slide-type gates from Maxon feature tough construction and useful features like auto-leveling, twin cart stops, and an optional hand-held remote control. The slider-style gates from Maxon are stored horizontally beneath the vehicle or trailer. They can accommodate swing and roll-up doors since they don't require extension plates. In addition, Maxon provides level-riding as well as level-ramping slide-type devices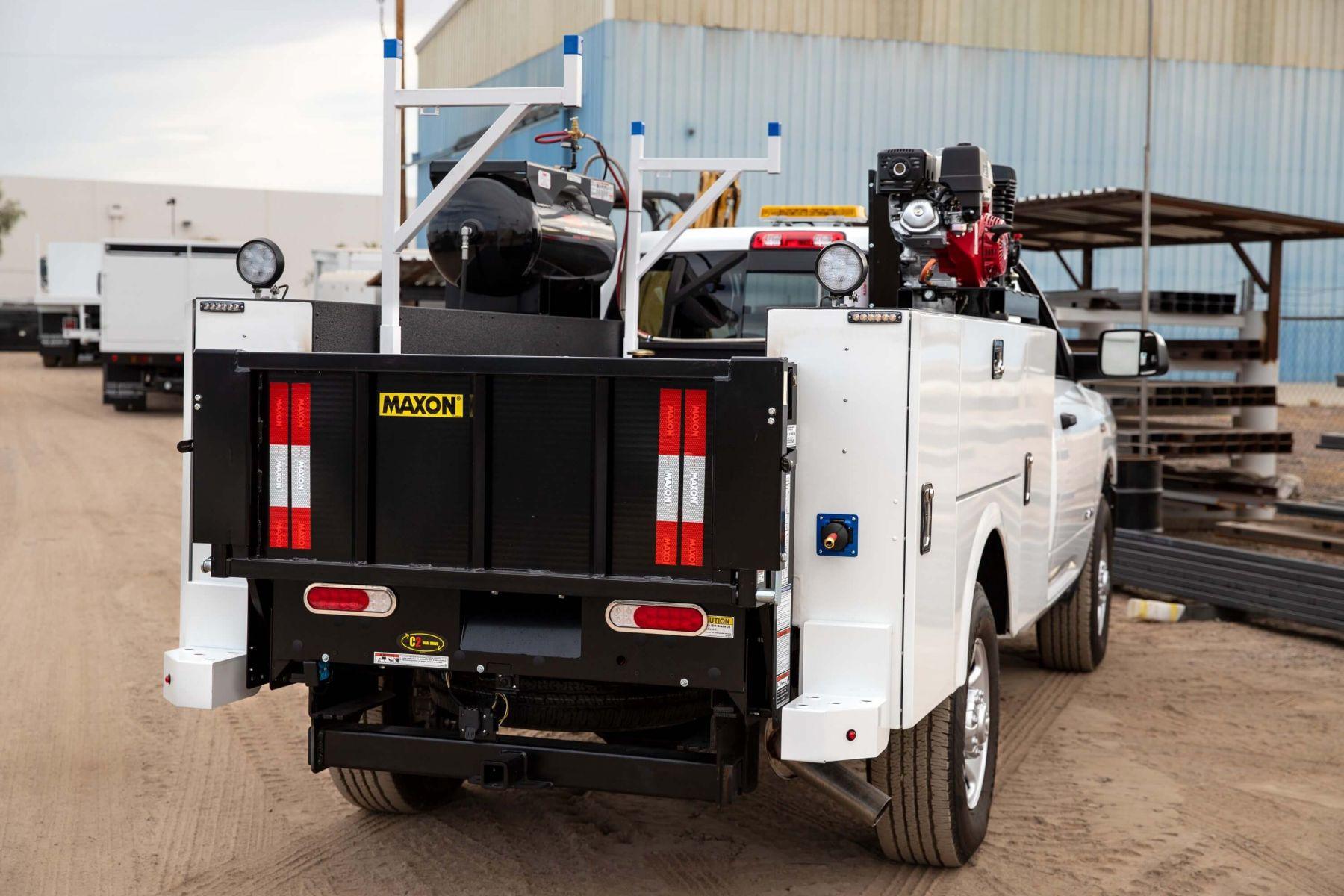 Columnlift™
The BMR Columnlift from Maxon combines all the industry's top features and technologies. No other direct-type lift on the market is like Maxon's BMR. The BMR offers superior performance in the form of faster operation, lower power consumption, and lower maintenance costs. It is built tough with sturdy columns to withstand dock impacts, precisely engineered with self-centering rollers to eliminate the possibility of jams and designed with lock valves for operator safety. It is an incredible option that we at Sun Country can utilize for custom work trucks and other vehicles.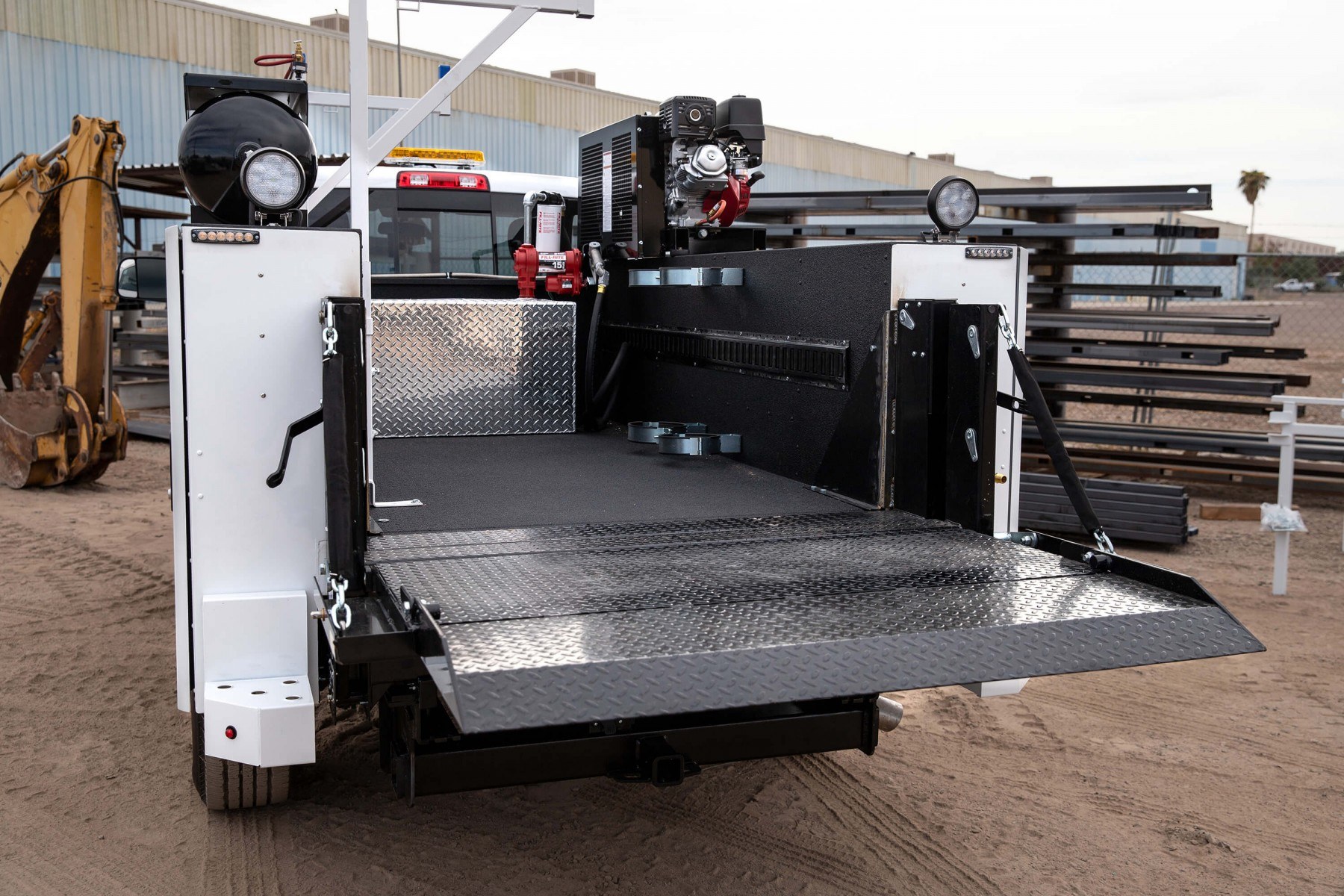 Gas Bottle Custom LiftGates
Maxon recognizes the need for solutions for non-conventional loading practices. As a result, we are happy to offer our Gas Bottle liftgates capable of lifting to 4,400 lbs. These Phoenix lift gates feature an integrated cylinder securing system, a fold-down railing for dock loading, automatic safety latches, and built-in lights.
Learn More About Maxon Liftgates for Custom Trucks in Phoenix, AZ by Contacting Us Today!
Sun Country Truck Equipment is honored to work in partnership with Maxon and their liftgates for our custom truck services in Phoenix, AZ. With their help, we can bring our AZ custom truck bodies to life, as they understand the importance of providing the best. Our skilled technicians have received the necessary training to build a vehicle that will last for many years and offer superior durability. With every job we take on, we use our decades of expertise to deliver the highest level of customer service and quality possible.
No matter the scale, if you can sketch it, we can make it a reality. For more information, contact Sun Country Truck today, and we will provide you with your free estimate!