A Maxon liftgate is a powerful workhorse. Not only are they known for their innovative design, but Maxon offers a wide variety of liftgates for light to heavy duty trucks.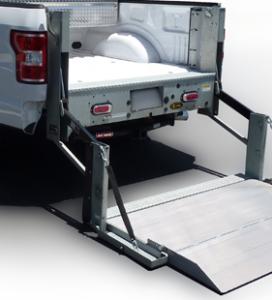 LIGHT DUTY SERIES
Light duty liftgates are designed to provide easy, safe and cost-effective lifting of light to moderate loads. Maxon's product line features light duty options for pickup trucks, service bodies, stake beds, van bodies and cargo vans.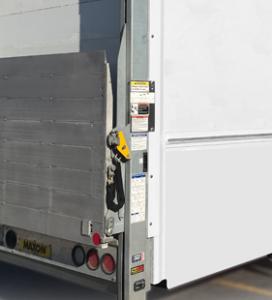 RAILIFT™
FOR TODAY'S MOST DEMANDING DISTRIBUTION REQUIREMENTS
Maxon was the first to bring the rail style liftgate to the United States during the 1970s. The Railift™ Series is a classic that never goes out of style because its heavy-duty level ride and dock loading capability are designed to handle some of the most demanding distribution requirements.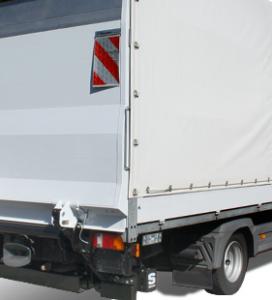 CONVENTIONAL
Conventional liftgates are the original style of liftgate. These liftgates are stored flush against the rear door or become the actual rear door. Consequently, these gates offer the largest platforms possible.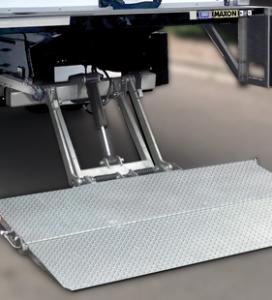 TUK-A-WAY®
The Tuk-A-Way liftgate folds and stows the platform under the truck body in the dock ready position. Today, Maxon offers a wide range of steel and aluminum platforms of different sizes along with various bed height options.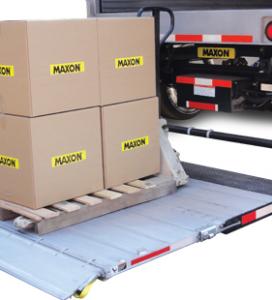 SLIDELIFT™
Maxon's slider-type gates stow horizontally underneath the truck or trailer. They don't need extension plates and therefore can accommodate roll-up as well as swing doors. Maxon offers slide-type products with level ride (GPSLR) as well as level-ramping ride (GPS).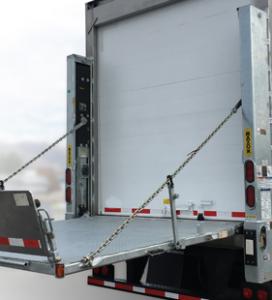 COLUMNLIFT™
Maxon's BMR Columnlift™ is the culmination of all the best technology, features, and options of any liftgate on the market, offering superior performance—by any measure.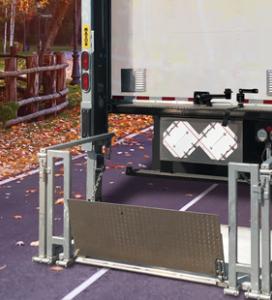 GAS BOTTLE
Maxon has always been at the forefront of designing liftgates to meet the special needs of its customers. Non-conventional loading practices require unique liftgate solutions. Maxon offers a variety of gas bottle delivery liftgates.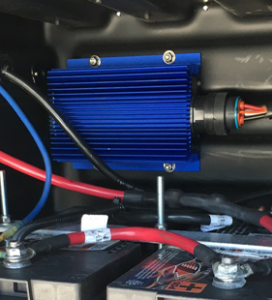 CHARGING SOLUTIONS
DC/DC Converter Based Auxiliary Battery Charging Solutions. Most Class 8 tractors have a much larger battery bank than a typical liftgate system and they serve as an excellent source of supplemental power for a liftgate system.
HLF SERIES FLIPAWAY GATE
Features include a 60" x 84" work area for pallet loads. Waltco's industry-leading bed extension has a reinforcing angle to offer greater strength. Their two-step dock bumpers and UHMW bumper protect the gate and dock from rubbing damage.
Optional walk ramps can be operated independent of liftgate. Other optional features include auxiliary power kits, dock bumper lights, hand-held pendant controller, and dual controls for street-side or curb-side operation.
Waltco liftgates have simplified designs for maximum performance. They manufacture lift gates with capacities ranging from 2,500 lbs. to 5,000 lbs.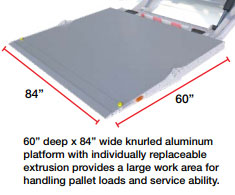 Palfinger liftgates are known internationally and across industries as a reliable and innovative lift solution.

FOLDING LIFTS
Palfinger folding lifts come in several designs and range in lift capacity of 2,000 lbs. to 4,000 lbs. Platform dimensions offered go from a minimum of 42" x 80" to maximum of 62" x 86". Options for construction material are aluminum or steel.

COLUMN LIFTS
Models include applications for severe-duty operations and bottle gas retention systems. There's a lot of versatility in this line, including a modular model designed for upgrades. Capacities range from 1,600 lbs. to 4,400lbs. and platform dimensions from 36" x 88" to 72" x 88".

CANTILEVER LIFTS
Models feature a true level ride and large platforms. Capacities range from 1,800 lbs. to 6,600 lbs. Platform dimensions range from 48" x 94" to 84" x 98".

CARGO VAN
Palfinger offers both internal and external van lifts. Both feature bolt-on applications from light duty capacities of 1,100 lbs. to 1,320 lbs. Platform dimensions range from 47" x 34" to 62" x 55".

SLIDER LIFTS
These lifts feature under-slider platforms in a number of models. Lift capacities range from 3,000 lbs. to 6,000 lbs. and platform dimensions between 58+ 8" x 84" and 82" x 94".
SIDE LOADERS & AUTO FOLD
These special application lifts come in a variety of styles- including single piece, folding and auto-folding. Increased capacity demand means slide loaders can now handle up to 5,500 lbs. Dimensions range from 36 + 5" x 49" to 82" x 94".
Dhollandia liftgates has one of the high liftgate capacities around. They're an internationally known and respected manufacturer.
VAN LIFTS
Dhollandia has a variety of van liftgates that fit both passenger and commercial vans. Their largest capacity model can hold up to 1,650 lbs.
FOLD-AWAY LIFTS
Discreet lift systems that range in capacities of 1,650 lbs. to 5,500 lbs. Aluminum platforms with a galvanized finish on steel components keeps these liftgates durable and protected against corrosion.
CANTILEVER
Dhollandia has 16 models for cantilever applications ranging from 2-cylinder, entry level lifts to liftgates holding over 19,000 lbs.
COLUMN LIFTS
The safest lifts for loading and unloading gas bottles. Custom sides/rails available. Capacities of over 5,000 lbs. available on several models.
SLIDER LIFTS
Slider lifts in a variety of models range in capacity from 850 lbs. to many that hold up to 4400 lbs.
SPECIAL LIFTS
Dhollandia offers a myriad of specialty application lifts from high-capacity, hydraulic systems to loading bridges.